Death toll in Afghan bomb attacks rises to four
(Agencies)
Updated: 2004-07-02 01:46
Three people wounded in a double bomb attack in the eastern Afghan city of Jalalabad died in hospital, bringing the death toll in the latest pre-election violence to four, officials said on Thursday.
Two bombs hidden in fruit carts exploded in a crowded commercial district of the city on Wednesday. One man died in hospital shortly after the blast and dozens were injured.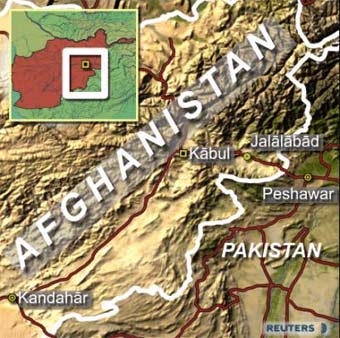 An Australian journalist, her assistant and a driver were reported missing in Afghanistan June 30, 2004 and 27 people were wounded in twin bomb blasts in the city of Jalalabad as pre-election violence escalated. One Taliban spokesman said the Islamic guerrillas had captured a foreign woman and an Afghan man, but another spokesman for the insurgents said they were not holding Carmela Baranowska, a documentary maker with Australia's SBS Television. [Reuters]


Also on Thursday, an Australian journalist reported missing in an area of southern Afghanistan where the Taliban militants are active called her employer to say she was not being held hostage.

On Tuesday, Taliban fighters ambushed a convoy of trucks carrying food for U.S. forces in the southern province of Kandahar and kidnapped 12 Afghan drivers and workers. A guerrilla spokesman said the men would soon be released.

A Taliban spokesman denied the group was involved in the Jalalabad blasts, saying it did not target civilians, but the movement did claim a bomb attack in that city on Saturday that killed two women working to register female voters for the U.N.-Afghan electoral body.

"Today we got information that three more of those wounded who were in critical condition passed away overnight in the hospital," provincial spokesman Faizanullhaq said.

Fighters from the Taliban and their al Qaeda allies have vowed to step up attacks on foreign forces, Afghan troops and aid workers in a bid to disrupt presidential and parliamentary elections expected in September, the country's first free polls.

More than 800 people have died in the violence since last August.

A Taliban spokesman said on Wednesday the Islamic guerrillas had captured a foreign woman and an Afghan man, raising fears about the journalist's safety, but another spokesman denied this.

The United Nations and the U.S. military said they understood Carmela Baranowska, 35, a documentary maker with Australia's SBS Television, was now safely back in Kabul.

Baranowska was out of contact from Monday until Thursday.

"It was simply because she didn't call in when she was supposed to," Major Rick Peat, a spokesman for the U.S. military in Afghanistan, told Australia's News Ltd.

On Friday, Taliban guerrillas killed 16 people in Zabul province after finding they had voter registration cards.

The violence comes despite the presence of a 20,000-strong U.S.-led force hunting militants and a 6,500-strong NATO-led peacekeeping contingent, raising concerns about election security.

At a summit in Istanbul this week, NATO pledged to boost its force for the elections by 1,500 troops, but this fell well short of hopes, drawing sharp criticism from rights groups.

U.N. spokesman Manoel de Almeida e Silva told a briefing that Afghans were now registering at a rate of 120,000 a day to vote in the poll, showing that they would not be intimidated.

The polls have already been postponed by three months, having originally been scheduled for June due to security concerns and the huge logistical challenge of holding a vote despite an infrastructure shattered by decades of war.

A new date for the election is under discussion and is expected in the coming days and the U.N. spokesman said security was a key factor. Under the electoral law, the date for the election must be announced 90 days in advance.




Today's Top News
Top World News

Officials punished for SARS virus leak




Jump in water prices stayed




Koguryo sites put on heritage list




Officials foretell new futures markets




New vehicle emission standards formulated




Official misusing school funds to be removed