Iran denies crewmen forced into its waters
(Agencies)
Updated: 2004-07-02 01:29
Iran has denied that eight British servicemen arrested last month in Iranian waters were forced into its territory.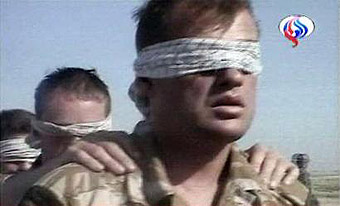 British sailors are marched blindfolded in Iran in a still taken from footage released by Arabic-language Al Alam satellite television channel on June 23, 2004. [Reuters]

Britain said on Wednesday Iranian Revolutionary Guards had forced eight British navy personnel into Iranian waters while the men were operating inside Iraqi territory on the Shatt al-Arab waterway along the Iran-Iraq border.

"The British charge d'affaires in Tehran ... had confirmed the unauthorised and unintentional straying of the boats to Iranian waters," Iranian Foreign Ministry spokesman Hamid Reza Asefi said on Thursday.

Iran held the British crewmen for three nights before handing them over to British diplomats after Tehran said they had mistakenly veered off course.

In a written statement to parliament on Wednesday, Defence Secretary Geoff Hoon said: "The initial assessment ... was that these service personnel could have strayed into Iranian waters by mistake.

"In recent more detailed debriefing the crews have said that they were operating inside the Iraqi border and were forcibly escorted into Iranian territorial waters."

The incident occurred at a time when British relations with Iran had soured over London's criticism of Tehran's alleged failure to cooperate with U.N. nuclear inspectors.

Unlike the United States, Britain has pursued a policy of engaging Iran in recent years. London has said it will continue that policy despite the arrest of the eight British servicemen.




Today's Top News
Top World News

Officials punished for SARS virus leak




Koguryo sites put on heritage list




Weather in space now for all to see




New vehicle emission standards formulated




Officials foretell new futures markets




World Carnival opens in Beijing