Hundreds of thousands of people in Guangdong Province's capital soaked up the excitement after the announcement by the Olympic Council of Asia (OCA).

Residents in Guangzhou, the provincial capital of South China's Guangdong, soak up the excitement Thursday after the Olympic Council of Asia announced that the city had won the right to host the 2010 Asian Games. [newsphoto]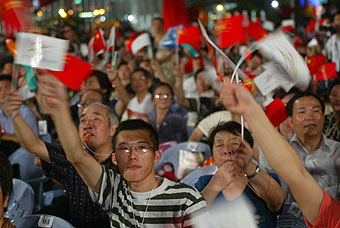 Guangzhou, in the nation's south, was picked as the host city for the Games during the 23th OCA General Assembly in Doha, Qatar, at 8:30 pm Beijing Times last night.

It was the only candidate after the withdrawal of the other three contenders, cities in Malaysia, the Republic of Korea and Jordan.

More than 7,000 people from all walks of life gathered at Guangzhou's Pazhou Convention and Exhibition Centre to celebrate the victory.

About 100,000 posters promoting the province's bid were put up on Wednesday.

Also, a post card reflecting Guangzhou's success was issued by the State Postal Bureau to commemorate the moment.

A 14-member delegation -- including Guangdong Governor Huang Huahua, Yuan Weimin, director of the State General Administration of Sports, and Guangzhou Mayor Zhang Guangning -- departed for Doha on Tuesday.

A five-member OCA evaluation committee inspected the city's venues and preparations for the Games on April 14.

After the evaluation, OCA's members said they were impressed with Guangzhou's plans, preparations and presentation, and that they would be fully satisfied with the sporting facilities in the city if they were built to bid specifications.

Guangzhou is now expected to apply for approval from the central government for a series of large-scale projects.

Mayor Zhang was quoted by the Guangzhou Daily as saying that the city will invest about 220 billion yuan (US$26.6 billion) in the run-up to the event to improve infrastructure, and build an athletes' village and a new railway station.

The city will also complete the second phase of the new Baiyun International Airport.