Top Saudi Qaeda spiritual guide killed in Riyadh
(Agencies)
Updated: 2004-07-01 22:48
Saudi police killed a top spiritual guide for the Saudi wing of Osama bin Laden's al Qaeda network during a shootout in Riyadh on Wednesday, security sources said.
They named the slain militant as Abdullah al-Roshood, on a list of 26 most wanted suspects, and said his death was a hefty blow to the ideological hierarchy of al Qaeda in the world's biggest oil exporter.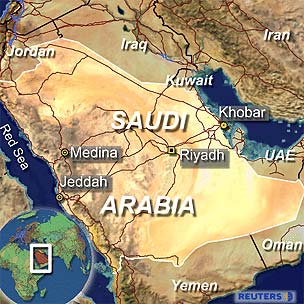 Two suspected militants and a Saudi policeman were killed June 30, 2004 during a shootout in eastern Riyadh, security sources and witnesses said. The gun battle was the first pitting police and suspected militants since Saudi forces killed Abdul Aziz al-Muqrin, leader of Osama bin Laden's al Qaeda network in Saudi Arabia, 12 days ago. Three other senior militants were also killed then. [Reuters]


The Interior Ministry said a policeman was also killed in the gun battle, the first militant violence since Saudi forces killed the leader of al Qaeda in the kingdom 12 days ago. Saudi Arabia has been battling militants trying to topple the country's pro-U.S. monarchy for more than a year.

The ministry statement said six more policemen -- and three passers-by -- were moderately to lightly wounded.

The security sources had earlier said a second militant apart from Roshood was killed, but the ministry statement, read out on Saudi television, said only one militant died.

The ministry statement said the afternoon gun battle broke out after police spotted a group of militants leaving a house carrying weapons. A chase ensued and police were still tracking down a number of other suspects.

"A police search of the militant's den showed that it was a factory for explosives," it added.

Al Arabiya television, which is Saudi-owned, said several people were also arrested.

TOP IDEOLOGUE

Roshood was one of four top ideologues for the al Qaeda in Saudi Arabia, security sources said, adding that he had been in hiding for over a year.

After the death of al Qaeda's Saudi commander, Abdul Aziz al-Muqrin -- hours after militants beheaded U.S. hostage Paul Johnson -- the group named Saleh al-Awfi as its new leader.

At least 85 policemen and civilians, many of them foreigners, have been killed in the shootings and suicide bombings blamed on al Qaeda.

Last week, Saudi de facto ruler Crown Prince Abdullah announced a limited government amnesty for militants who surrender. Official said the families of their victims could still press for punishment.

Al Qaeda, in an Internet newsletter, denounced the amnesty and said it was doomed to fail.

The United States and Britain, key allies of Saudi Arabia, have urged their 65,000 citizens in the kingdom to leave, citing the possibility of further militant attacks.

Foreign Minister Saud al-Faisal has vowed to protect foreign residents, but said the battle with al Qaeda is not yet over.

But Jamal Khashoggi, media adviser to the Saudi embassy in London told a conference on "Saudi Arabia and the threat from terrorism" shortly before Wednesday's shootout that the corner had been turned in the crackdown on militants.

"I believe we are going to see the last of al Qaeda this summer," Khashoggi said, adding that senior Saudi officials were not ready to make such statements on the record.

"The al Qaeda network, which they worked hard to build prior to (bomb attacks in Riyadh in May last year) has been dismantled," he said. "They no longer enjoy those safe houses they had for the last two years."





Today's Top News
Top World News

Shenzhen's bold move bolsters farmers' rights




China opposes Japan's sea gas decision




Beijing ready to talk with Taipei on links




CDC director resigns for SARS outbreak




China to lift restrictions on foreign banks




New licensing law streamlines bureaucracy