Raiding Israeli forces kill Gaza boy
(Agencies)
Updated: 2004-07-01 16:56
Israeli forces shot dead a 9-year-old Palestinian boy playing soccer in a Gaza refugee camp on Thursday as tanks rolled in to search for tunnels used by militants, witnesses said.
"We were playing soccer when Israeli tanks ... started firing inside the camp and toward us," said Bashir Abu Jlidan, 18, a resident of Rafah refugee camp.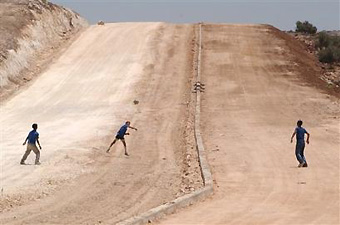 Palestinian children play ball at the site where Israel started building several months ago its separation barrier in the outskirts of the West Bank village of Biddu, north of Jerusalem, Wednesday June 30, 2004. [AP]

He said Omar Zara'an, 9, fell to the ground bleeding. Doctors at Rafah hospital pronounced the boy dead after trying to revive him.

The Israeli army had no immediate comment on the child's death. It said Israeli forces were on a mission in Rafah, which borders Egypt, to root out tunnels militants use to smuggle in weapons or place explosives underneath army positions.

Rafah residents said 15 Israeli tanks and other armored vehicles backed by helicopters rumbled into Rafah's Brazil neighborhood while firing machineguns.

The army besieged Rafah for six days in May, killing 42 Palestinians and leaving hundreds homeless after militants killed 13 soldiers in a string of ambushes.

In the West Bank, Israeli forces mounted a rare raid into the town of Jericho. The army said it detained 30 wanted Palestinians and found weaponry including rifles and grenades.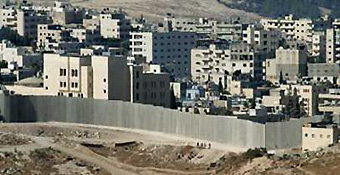 A section of the barrier separating the eastern neighborhoods of Jerusalem from the West Bank town of Abu Dis (rear) is seen on June 25. [AFP]

Witnesses in the ancient town, which has been largely untouched by nearly four years of Israeli-Palestinian violence, said troops pulled out after blowing up two flats and a house.

"This is a dangerous escalation by Israel," said Palestinian Negotiations Minister Saeb Erekat, a Jericho resident.

Residents of Nablus, also in the West Bank, said troops moved again into its casbah, or old town, closing its entrances and taking over a number of houses in a search for militants.

In a casbah operation last week, soldiers killed the West Bank commander of the al-Aqsa Martyrs Brigades, a militant group within Palestinian President Yasser Arafat's Fatah movement.

In the northern Gaza Strip, witnesses said Israeli forces moved further into the town of Beit Hanoun, seized on Tuesday a day after rockets fired from the area killed a 3-year-old boy and a man, aged 49, in Sderot in neighboring southern Israel.

They were the first in Israel to be killed by a rocket attack from Gaza since a Palestinian revolt began in 2000.

Army bulldozers, clearing areas where rocket squads could find cover, razed olive groves and orchards inside Beit Hanoun. An Israeli military source said on Wednesday troops could remain there for months to prevent militants from launching rockets.

Prime Minister Ariel Sharon plans to pull Israeli settlers and soldiers out of the Gaza Strip by the end of 2005 and has vowed to take "extensive action" before and after a withdrawal to thwart further rocket strikes.




Today's Top News
Top World News

Shenzhen's bold move bolsters farmers' rights




China opposes Japan's sea gas decision




Beijing ready to talk with Taipei on links




CDC director resigns for SARS outbreak




China to lift restrictions on foreign banks




New licensing law streamlines bureaucracy