Australia reporter says no hostage in Afghanistan
(Agencies)
Updated: 2004-07-01 15:53
An Australian journalist reported missing in Afghanistan said she was not being held hostage, her employer said on Thursday after regaining contact with her, but her whereabouts remained unclear.
Carmela Baranowska, 35, a documentary maker with Australia's SBS Television, went missing in southern Afghanistan earlier this week with her Afghan assistant and driver, sparking fears that they had been kidnapped by Taliban guerrillas.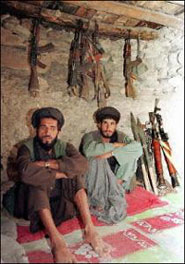 Taliban militiamen sit in a bunker beside their arms and ammunition in an earlier photograph. Taliban claim to have captured a foreign woman and an Afghan man amid fears that a female Australian journalist who has gone missing in Afghanistan may have been kidnapped by Taliban guerrillas. [AFP/file]

Baranowska contacted her mother in Australia early Thursday and SBS but the line dropped out before they could establish whether she was safe. Later in the day, however, she rang again.

"We are reassured as to her well being and to the fact that she is not being held as a hostage," SBS said in a statement.

"However, due to ongoing considerations for her safety we will not be issuing any further information at this stage."

A spokesman from the Australian government said two Australian consular officials had been sent to Kabul from Islamabad to help in the search to establish her whereabouts.

The alarm was raised on Wednesday after officials said Baranowska had gone missing on a road between the towns of Kandahar, capital of the province of the same name, and Girishk, in the neighboring province of Helmand, an area where the Taliban militants are most active.

She had not been seen since Monday.

One Taliban spokesman said the Islamic guerrillas had captured a foreign woman and an Afghan man, raising fears about her safety, but another spokesman for the militants said they were not holding Baranowska.

Violence continues in Afghanistan more than 30 months after U.S.-led forces toppled the Taliban for sheltering Osama bin Laden's al Qaeda network that is suspected of masterminding the September 11, 2001, attacks on U.S. cities.

The Taliban have vowed to step up attacks on foreign forces, local troops and aid workers in a bid to disrupt a planned September election billed as the country's first free vote. Over 800 people have died in the violence since last August.




Today's Top News
Top World News

Shenzhen's bold move bolsters farmers' rights




China opposes Japan's sea gas decision




Beijing ready to talk with Taipei on links




CDC director resigns for SARS outbreak




China to lift restrictions on foreign banks




New licensing law streamlines bureaucracy