Flag ceremony kicks off SAR birthday party
By Alfons Chan (China Daily HK Edition)
Updated: 2004-07-01 15:05
At 8:00 am Thursday morning Hong Kong Special Administrative Region SAR flag hoisted at Golden Bauhinia Square in a solemn ceremony that includes the spectacle of helicopters flying in formation.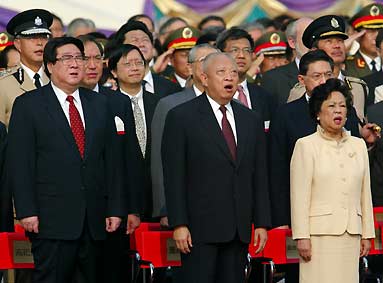 Gao Siren (L), head of Beijing's main representative office in Hong Kong, sings the national anthem with Hong Kong Chief Executive Tung Chee-hwa (C) and Tung's wife Betty during a flag raising ceremony to mark the seventh anniversary of the handover of Hong Kong to China July 1, 2004. [Reuters]
The event marks the start of a host of celebrations Thursdayday to celebrate the seventh anniversary of Hong Kong's return to the motherland.
Top Hong Kong and mainland officials - including Chief Executive Tung Chee-hwa and the Commissioner of the Chinese Ministry of Foreign Affairs in Hong Kong Yang Wenchang - attended the flag-hoisting ceremony.
Hong Kong delegates to the Chinese People's Political Consultative Conference (CPPCC) also attended - along with members of the consular corps and lawmakers from the Legislative Council.
The day's festivities include an open day for the public at the People's Liberation Army (PLA)'s barracks in Stanley, Shek Kong and Ngong Shuen Chau.
The PLA decided to open its barracks to civilians as July 1 marks both Hong Kong's return to the motherland and the founding of the Chinese Communist Party, said an army spokesman. The event is made possible because army training is less rigorous in the hot summer months of July and August, he said.
The Hong Kong Federation of Education Workers has arranged for more than 2,000 teachers and students to visit the PLA's barracks in Shek Kong and Stanley.
"We hope to give local students an opportunity to develop an awareness of their national identities and a deeper understanding of the motherland through such visits," said General Secretary Lui Yuyi.
She said teachers and students will be able to see military parades and weapons performances, and get the chance to visit barracks, living quarters and installations.
Meanwhile, trade union representatives joined members of the government, including Executive Councillor Leung Chun-ying, in a discussion of the Basic Law's implementation in the territory since the handover. They were taking part in a forum organized by the Federation of Trade Unions.
Spokesman of the group Leung Fu-wah said Hong Kong and the mainland have developed a good rapport since the handover seven years ago.
"While these seven years have been a transitional period for the territory, the territory's administration and its citizens have been able to achieve consensus with the mainland and the central government on many issues, and much progress has been made in this time," he said yesterday.
Additionally, a series of celebratory activities, including musical performances by amateur musicians and government marching bands, will be held at "The Avenue of Stars", one of Hong Kong's new tourist hotspots.
In Beijing, a signed article in People's Daily yesterday called on Hong Kong people to treasure their role as master of Hong Kong that "has not come easily".
On the eve of celebrations for the handover anniversary, it urged them to work for social stability and to grasp the opportunities to revive Hong Kong's economy.
It noted that there are still complaints, grievances and disputes in the Hong Kong community.
But so long as people in Hong Kong got along with each other in harmony, showed understanding of one another, sought common ground and stood united, the SAR would prosper, it said.
Today's Top News
Top China News

Shenzhen's bold move bolsters farmers' rights




China opposes Japan's sea gas decision




Beijing ready to talk with Taipei on links




CDC director resigns for SARS outbreak




China to lift restrictions on foreign banks




New licensing law streamlines bureaucracy