Fed raises rates, pledges gradual course
(Agencies)
Updated: 2004-07-01 08:46
The Federal Reserve raised U.S. interest rates for the first time in four years on Wednesday, boosting them a quarter percentage point in what likely is the first of several rises to keep inflation at bay.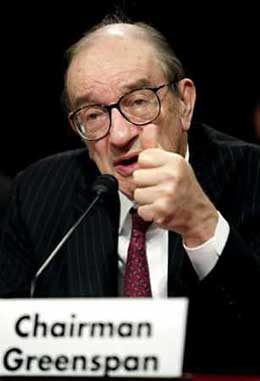 The Federal Reserve raised U.S. interest rates for the first time in four years on June 30, 2004, boosting them a quarter percentage point in the first of a likely series of increases to keep inflation at bay. The decision by the U.S. central bank's policy-setting Federal Open Market Committee moves the benchmark federal funds rate -- which affects credit costs throughout the economy -- to 1.25 percent. Federal Reserve chairman Alan Greenspan seen during testimony on Capitol Hill in this April 21, 2004 file photo. [Reuters]

The unanimous decision by the U.S. central bank's policy-setting Federal Open Market Committee moves the benchmark federal funds rate -- which affects credit costs throughout the economy -- to 1.25 percent.

The widely expected move formally ends a 13-step easing cycle that began in 2001 and took the key overnight rate to a 1958 low of 1 percent.

With a pick-up in economic momentum that has created 1.2 million jobs this year and ushered in higher prices, the Fed has embarked on an effort to take away some of the stimulus of cheap credit in gradual stages this year and next.

In a statement issued after its two-day meeting, the central bank repeated a pledge to follow a "measured" pace, which markets have taken to imply a course of smaller, quarter-point rate increases rather than larger ones.

"With underlying inflation still expected to be relatively low, the committee believes that policy accommodation can be removed at a pace that is likely to be measured," the Fed said.

"Nonetheless, the committee will respond to changes in economic prospects as needed to fulfill its obligation to maintain price stability," it added in new wording that left it room to move more aggressively if needed.

The Fed also increased the largely symbolic discount rate a quarter point to 2.25 percent.

SIGHS OF RELIEF

Analysts said policy-makers had struck the right note -- balancing reassurance that no flare-up in inflation was near with a warning they were on guard lest one emerge.

"This is a predictable, user-friendly kind of statement that tells the market that nothing will happen soon to accelerate the pace of the tightening process," said economist Dana Johnson of Banc One Capital Markets.

Higher rates may weigh on debt-heavy consumers but should prove a plus for savers and those living on fixed incomes.

Several U.S. banks raised their prime lending rates -- those offered to their top customers -- a quarter point to 4.25 percent as the Fed action rippled through commercial markets.

The Bush administration played down any worry that costlier credit could cloud the rosy economic outlook it wants to highlight going into November's presidential election.

"That's not something at this point that is a concern," said White House spokesman Scott McClellan. "It's just a reflection that the economy is growing stronger and that people are finding work."

Former President George H.W. Bush blamed his 1992 election loss partly on Fed Chairman Alan Greenspan, for failing to cut interest rates quickly enough to spur growth.

Relations seem friendly between Greenspan and the current President Bush, who has maintained a resolutely hands-off approach to the central bank.

Treasury Secretary John Snow said Wednesday the administration respects Fed independence and shares its goals of growth with low inflation.

Fed officials' assurances that they do not expect a repetition of the kind of aggressive tightening seen in 1994 helped financial markets prepare by "pricing in" expected rises and to face Wednesday's rate rise with equanimity.

Prices for bellwether 10-year Treasury notes rose 27/32 of a point and the yield dipped to 4.58 percent.

Stocks strengthened modestly, with the Dow Jones industrial average up 22.05 points to 10,435.48. The high tech-heavy Nasdaq composite index rose 12.86 to 2,047.79.

ONLY A FIRST STEP

A Reuters poll of top Wall Street firms after the Fed announcement found 21 of 22 expect another quarter-point hike at the next scheduled policy meeting on August 10.

The median forecast among participants for the fed funds rate by the end of the year was 2 percent, rising to 3.75 percent by the end of 2005.

Soaring energy costs have pumped up prices for high-profile goods like gasoline, but broader government gauges like the Consumer Price Index also have been on the rise.

In its statement, the central bank said while inflation data were "somewhat elevated," part of this increase seems due to transitory factors.

Economist Richard Yamarone of Argus Research Corp. in New York said Wednesday's rate rise was from an exceptionally low level, and that it, and those to follow, "should not be interpreted as an attempt to brake an out-of-control economy.

"These series of rate hikes are more appropriately analogous to taking the foot off the accelerator," he added.

One thing inflation-wary policy-makers will need to watch is productivity, or hourly output per worker, which has been robust enough to largely contain wage costs.

As hiring picks up, however, some increase in wages -- the lions' share of production outlays -- seems inevitable.

In the first quarter of this year, nonfarm business productivity grew at a 3.8 percent annual rate. That was not enough to offset a 4.6 percent rise in hourly compensation, and unit labor costs rose.




Today's Top News
Top World News

Beijing ready to talk with Taipei on 'three links'




China to lift restrictions on foreign banks




China opposes Japan's sea gas decision




New licensing law streamlines bureaucracy




Beijing's heritage status to be questioned




Fed raises rates, pledges gradual course