Not to everyone's taste, Rome changes colors
(Agencies)
Updated: 2004-07-01 08:46
The warm ocher and terracotta colors of the centuries-old buildings in central Rome are giving way to pale, pastel shades, and while this may be historically accurate, it is not to everyone's taste.
According to Claudio Strinati, superintendent of museums in Rome, the change in colors is meant to "return to the original hues of the 17th and 18th centuries, the period in which most of the buildings in the capital were built."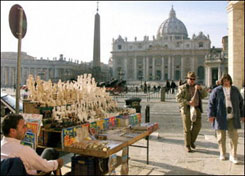 Tourists walk past a souvenir vendor on Rome's St. Peter's Square. [AFP/File]

But the superintendent of archaeological sites, Adriano La Regina, complained in an open letter that Rome "is in the process of losing its traditional epidermis. Buildings are being painted in pale colors that lack intensity, that have no soul."

And Paolo Fancelli, a professor at the Sapienza University who specializes in the restoration of monuments, said that to speak of original colors is "a bit of a myth. You cannot find the exact range of colors from documents."

Not only the experts, but ordinary Romans and tourists lament the passing of the warm, southern colors that were so typical of the city.

Take the Chigi Palace, official residence of Prime Minister Silvio Berlusconi, which used to be a rich red, but is now a blinding white.

"These changes are having an effect on the nature of our city," said Carla, the 57-year-old owner of a news-stand. "I liked the Chigi Palace as it was before. Like this it looks like the White House."

The change in colors is deliberate policy. The owner of a historic building has to submit restoration plans to Strinati's office, which dictates which colors must be used. It started dictating pastel shades when many buildings were being given a new lick of paint for the Roman Catholic church's jubilee celebrations in 2000.

Because Imperial Rome was built of white travertine stone, the builders of the papal city chose pale renderings to imitate marble. But in the 19th century, house-owners adopted the rich red hues of southern Italy that became so much a part of the city's identity.

"The one thing eternal about Rome are the problems," said one disgruntled resident. "Red was a very Roman color, well adapted to the luminosity of the city, but if the experts say the contrary there is nothing much you can do about it."




Today's Top News
Top World News

Beijing ready to talk with Taipei on links'




China opposes Japan's sea gas decision




New licensing law streamlines bureaucracy




Beijing's heritage status to be questioned




Fed raises rates, pledges gradual course




Police crack Taiwan telemarketing gang