East Timor eyes ARF membership
(Xinhua)
Updated: 2004-06-30 15:16
While East Timor is still in the early stage of the process to become a member of the Association of Southeast Asian Nations (ASEAN), the world's youngest nation has a very good chance to participate in Asia's top security forum sometime this year.
East Timorese Foreign Minister Jose Ramos Horta, who is in Jakarta as a guest to attend the 37th ASEAN Minister Meeting (AMM) and the ASEAN Regional Forum (ARF), said on Tuesday that Dili had received support from the United States, Japan, China, Malaysia and Thailand to enter the ARF.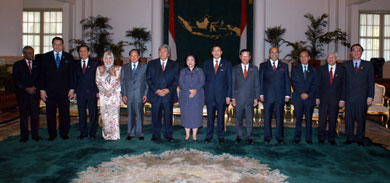 Foreign ministers from ASEAN pose during a group photo with Indonesian President Megawati Sukarnoputri after the opening of the 37th Asean Ministerial Meeting (AMM) in Jakarta State Palace on June 30, 2004. ASEAN foreign minister's from left to right, Singapore's Prof. S. Jayakumar, Thailand's Surakiart Sathirathai, Vietnam's Nguyen Dy Nien, Brunei's acting minister HRH. Princess Masna, Cambodia's Hor Namhong,Taufik Kiemas, husband of Indonesian President Megawati Sukarnoputri, President Megawati Sukarnoputri, Indonesia's Hassan Wirajuda, Laos' Samsavat Lengsavad, Malaysia's Datuk Seri Syed Hamid Albar, Mynamar's U Win Aung, Philippines' Rodolfo C. Saverino and ASEAN secretary general On Ken Yong. [Reuters]


"We hope that this year, East Timor will be admitted into the ARF," Ramos was quoted Wednesday by The Jakarta Post as saying.

In fact, East Timor should have been admitted into ARF last year at the Phnom Penh meetings along with Pakistan.

But as India, an ARF member, did not agree on the inclusion of Pakistan at that time, the whole discussion of new members was put on hold and East Timor had to wait for another year.

Indonesia, the current chair of ASEAN and the host of ASEAN and ARF ministerial meetings, stated that the admission of East Timor into ARF had not been put on the agenda.

Marty A. Natalegawa, spokesman at the Ministry of Foreign Affairs, would only acknowledge that East Timor had applied for ARF membership.

The ARF, formed a decade ago with the mandate to cooperate on regional peace and stability among ASEAN members, also comprises Australia, Canada, China, the European Union, India, Japan, Mongolia, New Zealand, South Korea, the Democratic People's Republic of Korea, Papua New Guinea, Russia and the United States.

Under the ARF rules, a consensus must be achieved among forum members for the admission of a new member.




Today's Top News
Top World News

Money Game: Rotating illusion of getting wealthy




More HIV, AIDS cases expected in Henan




EU ruling on China's market status 'unfair'




Piracy still plagues IT industry




Zeng: July 1 should be a day for celebration




Saddam to face charges in Iraq Thursday