Saddam to face charges in Iraq Thursday
(Agencies)
Updated: 2004-06-30 09:12
Iraqis and the world will get their first glimpse of Saddam Hussein since his capture in December when he and 11 of his top lieutenants are brought to court Thursday to face war crimes charges likely to include the 1988 chemical weapons massacre of Kurds and the 1990 invasion of Kuwait.
Already there are pretrial negotiations over permitting Saddam's foreign legal team to work in Iraq, whether to televise the proceedings and whether to reinstate the harshest penalty in Iraq's legal code: hanging by the neck until dead.
Iraq will take legal custody of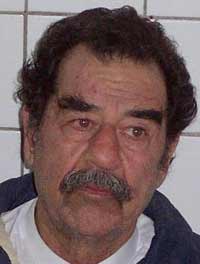 In this image released by the U.S. Army on Sunday Dec. 14, 2003 former Iraqi President Saddam Husseinis shown in custody after he was arrested near his Tikrit home. [AP Photo]

Saddam from the U.S. Army on Wednesday and the former leader is to make his first court appearance Thursday, where he will be informed of the charges in his arrest warrant, Prime Minister Iyad Allawi announced Tuesday.

Salem Chalabi, director of the Iraqi Special Tribunal that will try Saddam, said Thursday's appearance at the tribunal, housed in a courthouse with a prominent clock tower inside Baghdad's sealed-off Green Zone, is expected to be filmed for public release.

The pictures would offer the first bit of video since Saddam's Dec. 13 capture by U.S. soldiers, when a clip showed the bushy-bearded leader opening his mouth for a dental examination.

Upon their arraignment, the dozen U.S. military detainees will be given the status of Iraqi criminal suspects, which gives them the right to attorneys or appointed counsel, Chalabi said.

The first batch of Saddam's lieutenants to face the tribunal include Ali Hassan al-Majid, also known as "Chemical Ali"; former Vice President Taha Yassin Ramadan; former deputy Prime Minister Tariq Aziz; and two of Saddam's half brothers.

The moves to try Saddam are a sign of Iraqis taking matters into their own hands after U.S. administrators turned over power Monday — though some 160,000 U.S.-led foreign troops remain to protect Allawi's government from a relentless insurgency.

Violence persisted Tuesday, when a roadside bomb in Baghdad killed three Marines and wounded a fourth. Four Iraqis — including police and civilians — were killed in other attacks around the country.

Allawi said he requested that coalition forces keep Saddam and other top prisoners in a U.S. lockup "until correction services are fully capable of providing for their safety" and secure detention.

Chalabi said the trials of Saddam and other senior figures likely would not begin before 2005. Some suspects could be indicted in the autumn but "the senior ones will not be indicted for some time," he told CNN. "Then after that ... the trials would start maybe in a few months further down the line."

The trial of the 67-year-old Saddam stands to be the most sensational case in Iraqi history, igniting Iraqi interest like the O.J. Simpson trial fascinated Americans. The O.J. trial highlighted rifts between black and white Americans; Saddam's case is expected to bare the chasm between the Iraqis who benefited from his 24-year rule, and those whom it scarred.

"Everyone who lost loved ones to Saddam will want to see this," said Hamid al-Bayati, Iraq's new deputy foreign minister and a leader of the main Shiite Muslim party.

He noted that Saddam's victims are estimated in the hundreds of thousands or more, which means a huge segment of the 26 million Iraqis want to watch him answer for those crimes.

The crimes against humanity for which Saddam is expected to be tried include the 1988 chemical weapons massacre of Kurds in Halabja, the slaughter of Shiites during a 1991 uprising in southern Iraq, the 1990 invasion of Kuwait and the 1980-88 Iran-Iraq war.

"On the street, people just won't be able to believe that they are seeing this," Chalabi said. "There has been a suspicion among Iraqis that Saddam Hussein and other detainees are not going to get tried. If people see that the rule of law is established, it will have a positive impact."

But the trial could contribute to the upheaval in Iraq by polarizing Saddam's supporters and detractors, said Walid Mohammed al-Shibibi, a Baghdad attorney and editor of a legal journal.

"This will escalate into terrorist attacks," he said.

Iraqi law has no restrictions on televising trials, but some could be imposed if the judge wishes, al-Shibibi and others said.

Iraqi officials insist Saddam and the others will get fair trials. Asked whether justice includes the possibility that Saddam might walk out a free man, perhaps on a legal technicality, al-Bayati said there was "no chance at all."

"The whole world will see this," said al-Bayati, who said he was tortured in Saddam's prisons in the 1970s. "He won't be able to walk free."

Allawi said his Cabinet is discussing reinstating Iraq's death penalty, which was suspended by American occupation chief L. Paul Bremer.

A team of 20 foreign lawyers appointed by Saddam's wife Sajidah might not be permitted to represent him, al-Shibibi said.

The only foreign lawyers permitted to defend Iraqis without special permission are Palestinians and Syrians, he said. Others must seek approval from the Iraqi Bar Association, he said.

The job of trying and representing Saddam involves personal risk.

Ziad al-Khasawneh, one of Saddam's would-be defense attorneys, said in Amman, Jordan, that the defense team planned to go to Iraq but that Allawi's government had not said whether it would provide security.

"How can the defense team go to a country where it doesn't enjoy any protection? They will kill us there," said an angry al-Khasawneh.

Al-Shibibi said there are Iraqi lawyers who would agree to represent Saddam. Few would consent to release their identities, nor for that matter, would prosecutors, he said. Already, lawyers working in Iraq's justice system have received death threats.

The trial itself won't take place for months.

The proceedings will rely on a mix of Iraqi criminal law, international regulations such as the Geneva Conventions and experiences of bodies such as the Rwanda war crimes tribunal.

As much as 30 tons of documents and other evidence must be culled.

In an April interview with National Public Radio, Chalabi said the evidence includes a 1983 document describing procedures to be followed in killing 5,000 members of the Kurdish Barzani tribe. He said there is also a tape recording of what sounds like Saddam ordering those killings.

And then there are the potential witnesses, which could be said to include almost every Iraqi.

"If I'm asked to testify I would be willing," al-Bayati said. "But there are so many others who suffered more. There are more serious eyewitnesses."




Today's Top News
Top World News

Money Game: Rotating illusion of getting wealthy




More HIV, AIDS cases expected in Henan




EU ruling on China's market status 'unfair'




Piracy still plagues IT industry




Zeng: July 1 should be a day for celebration




Saddam to face charges in Iraq Thursday