Saddam to be charged in Iraq
(Agencies)
Updated: 2004-06-29 23:49
Saddam Hussein will be transferred to Iraqi legal custody and face charges in an Iraqi court this week — but he won't go on trial for months and he will stay in a U.S.-run jail because the country doesn't have a suitable prison, the prime minister said Tuesday.
Prime Minister Iyad Allawi promised an open proceeding when Saddam faces war crimes charges, including genocide.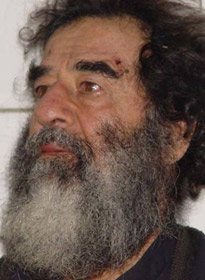 A photo of Saddam Hussein after his capture is shown during a press conference in Baghdad in this December 14, 2003 file photo. [Reuters]

Eleven other "high-value detainees" also are expected to face justice, he said at his first news conference since the U.S.-led coalition handed over sovereignty to his government Monday.

"I know I speak for my fellow countrymen when I say I look forward to the day former regime leaders face justice," he said.

Saddam will be transferred to Iraqi legal custody on Wednesday and face arraignment before an Iraqi judge on Thursday, Allawi said. Soon after the end of the press conference, Iraqi authorities announced arrest warrants for Saddam and the 11 others, including former Deputy Prime Minister Tariq Aziz.

During the news conference, Allawi was asked whether his Cabinet had finalized plans for emergency rule as have been proposed publicly by a number of officials since the interim administration was announced June 1.

"We will tell you about those procedures later — maybe tomorrow or the day after tomorrow," he said. "We will tell you about those procedures that were adopted by the Cabinet."

Government officials have not spelled out what measures might be imposed. However, Iraqi media have speculated that they might include special rules for searches, detentions and curfews in specific areas of the country where insurgent activity is strong.

The trials for Saddam and the 11 others will not occur for months, and he urged the Iraqi people to be patient. He acknowledged that more than 1 million Iraqis are missing as a result of events that occurred during the former regime — and that many Iraqis want justice done.

But he insisted that Saddam must receive a "just trial, a fair trial."

Allawi did not identify any other defendants due to be handed over.

However, a Saudi Web site, Elaph.com, quoted Iraqi sources as saying the list includes Ali Hassan al-Majid, also known as "Chemical Ali"; former Vice President Taha Yassin Ramadan; former deputy Prime Minister Tariq Aziz; and two of Saddam's half-brothers.

"We would like to show the world that the new Iraq government means business and wants to do business and wants to stabilize Iraq and put it on the road toward democracy and peace," Allawi said. "We want to put this bad history behind us and move toward a spirit of national unity and reconciliation in the future."

Allawi said Iraqi leaders requested that coalition forces retain custody of the deposed leader "until correction services are fully capable of providing for their safety and secure detention of the accused."

Saddam, who was captured by U.S. troops Dec. 13, is being kept at an undisclosed location in or near Baghdad and has been interrogated by the CIA and FBI.

The tribunal that will try Saddam has a budget of $75 million. It will rely on a mix of Iraqi criminal law, international regulations such as the Geneva Convention, and experiences of bodies such as the Rwanda war crimes tribunal.

The U.S. Justice Department has been gathering evidence for a war crimes case against Saddam, while other international groups have been sifting through mass graves where U.S. officials say victims of Saddam's regime were buried.

Saddam's military also used chemical weapons against troops and civilians during the Iran-Iraq War in the 1980s and during a Kurdish uprising.

Allawi said the Iraqi Cabinet is still discussing whether to reinstate the death penalty.

Justice Minister Malik Dohan al-Hassan said Saddam could have foreign lawyer — if an Iraqi lawyers' association agrees.

The Jordanian lawyer claiming to represent Saddam has argued that the ousted leader should be released because handing him over to Iraq's new government would violate international law.

Ziad al-Khasawneh, one of 20 Jordanian and foreign lawyers appointed by Saddam's wife, Sajidah, said the United States has no legal basis to keep prisoners, including the ousted ruler, now that it has transferred authority to an interim Iraqi government.

Saddam was granted prisoner of war status after his capture. Although he is alleged to have committed crimes against his own people, he has not been charged with any offense.




Today's Top News
Top World News

More HIV, AIDS cases expected in Henan




Law alters national licensing standards




Piracy still plagues IT industry




China presses EU on market economy status




Official gets life term for corruption




Beijing addresses power shortage