Militants say they executed US soldier in Iraq
(Agencies)
Updated: 2004-06-29 08:39
Al Jazeera television broadcast a video tape on Monday showing what militants said was the execution of a U.S. soldier captured in Iraq in April.
A gunman could be seen firing one shot at the soldier, wearing greenish overalls and seen only from the back, in a dark setting. The body fell into a hole.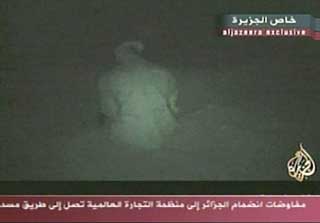 A video grab image taken from a tape obtained by Al Jazeera television shows an unidentified man, believed to be a U.S. soldier. Al Jazeera television aired the video tape June 28, 2004 showing what militants said was the execution of a U.S. soldier captured in Iraq in April. The U.S. Army has told the family of a soldier taken hostage in Iraq in April about the existence of a videotape that may show an execution, but has not confirmed that he has been killed, defense officials said on Monday. [Reuters]

U.S. defense officials said the family of Private Keith Matthew Maupin, 20, seized by militants in April, had been told about the existence of the video, but that there was no confirmation he had been killed.

The video was aired hours after the United States handed sovereignty to an interim Iraqi government two days earlier than expected, aiming to forestall guerrilla attacks with a secretive ceremony formally ending 14 months of occupation.

Al Jazeera quoted a statement from a previously unheard of group as saying the soldier was killed because of U.S. policy in Iraq and in revenge for what it described as their "martyrs" in Iraq, Saudi Arabia and Algeria.

The group was identified as the Implacable Power Against the Enemy of God and the Prophet.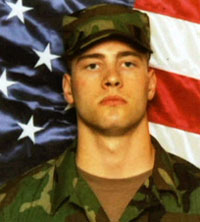 Matthew Maupin was captured April 9. [CNN/Fimaly photo]

Since April militants in Iraq have seized a number of foreign workers and military personnel. Some have remained captive.

"RUMOR OF AN EXECUTION"

The U.S. military has said Marine Corporal Wassef Ali Hassoun was reported missing from his unit on June 21. On Sunday, militants appearing on Al Jazeera threatened to kill Hassoun if prisoners in Iraq were not freed.

A senior U.S. defense official, speaking on condition of anonymity, said Maupin's family had been told "there's a rumor Al Jazeera or an Arab network may have a tape of an execution, but we do not know if it's their son or not."

Maupin, of Batavia, Ohio, has been missing since April 9 when his military fuel convoy was ambushed near Baghdad.

His captors sent video footage of him to Al Jazeera a week after he was seized.

The poor-quality tape showed Maupin dressed in military fatigues sitting on a floor, held captive by masked and heavily armed guerrillas.

At one point, he identified himself in a soft voice.

One guerrilla read from a statement, saying: "We are willing to exchange him for Iraqis held by the American enemy... This is the fate of all American soldiers in Iraq."

After his capture, family, friends and well-wishers held a rally in support of Maupin, displayed yellow ribbons and lit candles in Batavia, a town about 15 miles east of Cincinnati.

Maupin was a member of the U.S. Army Reserve's 724th Transportation Company based in Illinois.

Militants led by Jordanian Abu Musab al-Zarqawi, accused by Washington of links to al Qaeda, have claimed responsibility for the beheading of two civilians -- an American and a South Korean.

Zarqawi's group has threatened to execute three Turks by a Tuesday deadline if Turkish workers and companies did not stop helping U.S. forces.

One group of militants killed an Italian civilian in April but later freed three of his colleagues.




Today's Top News
Top World News

`Five Principles' guiding national relations turn 50




Iraqi militants kill US soldier hostage




EU refuses to grant China market economy




Priority given to heritage protection




China overtakes US as investment target




HK's system valued 'like a diamond'