Sino-US trade relationship hits rough patch
By Jia Hepeng (China Business Weekly)
Updated: 2004-06-28 11:28
Economic and trade ties between China and the United States this year are currently going through their most difficult time and bilateral trade disputes and the problem of China's market economy status (MES) will not likely be solved any time soon.
"The trade relationship is expected to further improve in September or October when China may put in place a large deal to purchase US goods to balance trade surplus against the United States," said an insider close to the Ministry of Commerce.
The insider made his remarks last Thursday, during an interview with China Business Weekly, when US Commerce Secretary Don Evans and his colleague, US Labour Secretary Elaine Chao were to end their four-day visit to China.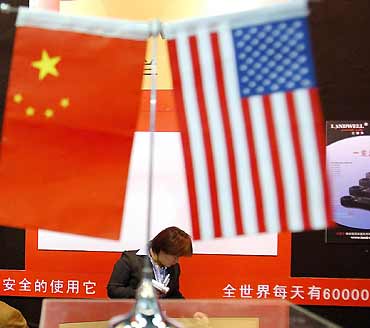 A salesman checks US-made security equipment during an international public safety and security exhibition in Beijing. Analysts suggest the ongoing presidential election campaign in the United States will severely affect Sino-US trade relations over the short term, but the influence will not last long.[Reuters]

Evans and Chao arrived in China last Monday. They travelled to the northeastern city of Harbin, met Premier Wen Jiabao and Vice-Premier Wu Yi on Tuesday and Wednesday and attended a series of events.

Evans continued urging China to open its market wider to US goods,better protect intellectual property rights (IPRs), lift its capital controls and improve China's labour welfare.

"But this time the atmosphere seems quite relaxed, which indicates the US side wants to appease China after it has imposed anti-dumping tariff on Chinese goods three times in two months," Wang Li, an analyst with the Chinese Academy of International Trade and Economic Co-operation (CAITEC), said.

CAITEC is a think-tank of the Ministry of Commerce.

During their meeting, Evans told Wen the United States is willing to strengthen economic and trade co-operation with China through constructive dialogue.

The remarks, however, were made just after the US Department of Commerce (USDOC) decided to impose anti-dumping taxes on dozens of Chinese enterprises.

On June 18, Washington slapped preliminary anti-dumping duties of up to 198 per cent on US$1.2 billion of Chinese wooden bedroom furniture, which Chinese firms said was the latest protectionism move by the United States.

MES, not easily granted

Early this month, the USDOC also ruled against Chinese consumer bags exported to the United States, but the anti-dumping tariff rate on the products have not been finalized.

The US International Trade Commission ruled on May 14 that Chinese TV producers had dumped US$276 million worth of Chinese colour TVs in the US. In the final ruling, Chinese TV manufacturers were charged anti-dumping tariffs from 5.22 per cent to as high as 26.37 per cent.

In an apparent move to retaliate, China's Commerce Ministry ruled in a preliminary determination made earlier this month that New York-based Corning Inc had dumped optical fibre products into China.

Corning Inc sold US$760 million of optical fibre products last year, and its exports to China accounted for 6 per cent of its total sales of optical fibre products.

In 2003, Washington's trade deficit with China -- according to US statistics -- hit a record US$124 billion in 2003 and is expected to head higher.

Chinese customs statistics show the nation's total trade volume with the United States was US$126.33 billion, with a US$58.61 billion surplus against the US side.

Fu Mengzi, a senior researcher with the Chinese Academy of Contemporary International Relations, said China's trade relationship with Washington has apparently been politicized ahead of the US president election in November, leading the Bush Administration to raise protectionism measures.

"But the protectionism measures will not threaten the development of Sino-US trade relationship, because they do not change the basic mutual compliment of the trade between the two countries," Fu said.

According to Chinese customs statistics, bilateral trade volumes between the two countries reached US$49.42 billion. China has a trade surplus of US$18.03 billion, a rise of 28.3 per cent over the same period of last year.

"It is easier for people to see trade disputes instead of trade compromises. In fact, China has made several concessions before the US presidential election, thus giving more room for US incumbent officials to counter-attack their Democratic rivals' accusation that Bush was losing US jobs to China," Wang said.

In April, Chinese Vice-Premier Wu Yi pledged, during meetings with Evans in Washington, to intensify a crackdown on counterfeiting and postponed enforcement of China's compulsory standards of wireless Internet technology WAPI. The standard would apparently put US firms in a disadvantageous position before their rivals in the Chinese market.

US and Chinese negotiators last week concluded an aviation agreement in Washington, in a bid to double the number of airlines flying between the two countries and allow a nearly fivefold increase in flights over the next six years.

Given China's long-standing reluctance to open the air market, the deal, though still not officially signed, is a major compromise of the Chinese side to the US aviation industry.

In the US side, the Bush administration had rejected requests by US labour unions and business groups earlier this year, to pursue unfair trade cases against China, on the grounds that China violates workers' rights by preventing collective bargaining and manipulates its currency to gain unfair advantages in competition with US goods. Labour groups asked to impose more than 70 per cent punitive tariffs on all Chinese exports to the United States.

Despite the improving atmosphere between China and the United States, Fu said the two countries cannot avoid quarrelling on trade issues because China would unavoidably create greater trade surplus against the United States in the long-run.

Labour welfare issues are expected to sharpen in trade disputes between the two countries, said Di Huang, a research fellow with the Chinese Academy of Labour Sciences..

"The US side will not grant the market economy status to China easily. China's non-market economy status remains a major excuse for the US to impose anti-dumping tariffs against Chinese goods threatening US jobs rapidly," Fu said.

Evans said China, to be designated as a market economy, will have to deal with a range of non-market-based policies such as its currency policies and the extent of government ownership of Chinese companies.

Without market economy status, Chinese firms will find it hard to defend themselves when they are accused of dumping goods to the US market, because costs of Chinese products are not considered during the ruling process.

"But, basically speaking, non-MES would not harm Chinese exports to US, and it would not be used by the US side as a weapon against Chinese goods much frequently," Fu said.