Iraqi militants threaten to kill captured US Marine
(Agencies)
Updated: 2004-06-28 08:58
An Iraqi militant group issued footage Sunday of a man it said was a captured U.S. Marine and threatened to behead him, further heightening tension ahead of the June 30 formal handover of sovereignty.
Video shown on Qatar-based Arabic channel Al Jazeera showed a blindfolded man in a camouflage uniform, and an apparent Marine Corps identity card that named him as Wassef Ali Hassoun.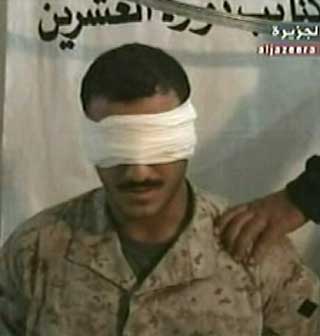 A television image aired by Al Jazeera June 27, 2004 shows a blindfolded man dressed in camouflage sitting in a chair with a hand holding a sword above his head. A Marine Corps identity card named him as Wassef Ali Hassoun and Jazeera said he was of Pakistani origin. Al Jazeera television said a group calling itself the Islamic Response Movement, the security wing of the "1920 Revolution Brigades", had kidnapped the U.S. Marine after luring him from a U.S. base. [Reuters]

Jazeera said the group threatened to behead Hassoun unless Iraqi prisoners are freed.

The U.S. military said it was investigating the claim.

Militants in Iraq have already seized three Turks and a Pakistani man over the past week in a new spate of kidnappings just days before the formal handover of sovereignty by occupying forces to an interim Iraqi government on June 30.

Fighters loyal to al Qaeda ally Abu Musab al-Zarqawi said on Saturday they were holding the Turks and would behead them within 72 hours unless Turks stopped working with U.S. forces.

The threat has cast a shadow over President Bush's visit to Turkey for a NATO summit Monday and Tuesday.

In a separate video tape aired on Al Arabiya television on Sunday, unidentified gunmen said they had seized a Pakistani hostage near Balad, north of Baghdad, and would kill him within three days unless Iraqi prisoners were released from jail.

The footage showed the man, who had an identity card given to contractors working for U.S. forces, urging Pakistan's president to shut down the country's embassy in Iraq.

Turkey and Pakistan are not part of the U.S.-led occupation force in Iraq but many nationals work as drivers, cooks, cleaners and support staff for U.S. troops.

Turkey refused to bow to the kidnappers' demands.

"Turkey has been fighting terrorist activity for more than 20 years," Turkish Defense Minister Vecdi Gonul told reporters in Istanbul.

"They ask many things, they demand many things. We never consider them with seriousness."

Zarqawi's group beheaded a South Korean hostage last week after Seoul rejected a demand to withdraw its forces from Iraq, and last month decapitated a U.S. captive.

Zarqawi has also claimed responsibility for a series of bloody attacks, most recently a wave of suicide bombings and armed assaults in five cities Thursday that killed more than 100 Iraqis and three U.S. soldiers.

Washington has offered $10 million for Zarqawi's capture.

Dozens of hostages were seized in Iraq in April as fighting engulfed the rebellious city of Falluja and a Shi'ite uprising swept through central and southern Iraq. Most were later freed but at least four were killed by their captors.

One U.S. soldier, Private Keith Maupin, was captured by guerrillas on April 9 and remains missing. His captors sent video footage of him to Jazeera a week after he was seized. Since then, there has been no news on his fate.

BLOODY CAMPAIGN

Guerrillas have staged multiple attacks this month to try to disrupt the formal handover of sovereignty to an interim Iraqi government Wednesday. U.S. and Iraqi officials say they expect more attacks in coming days.

Sunday a U.S. C-130 aircraft was hit by small arms fire after takeoff from Baghdad airport. One person was wounded and later died, the U.S. military said.

Several explosions also rang out in central Baghdad as guerrillas aimed mortars at the "Green Zone" compound housing the U.S.-led administration's headquarters. One mortar killed two boys playing near the Tigris river, doctors said. The river bank was stained with a pool of blood and chunks of flesh.




Today's Top News
Top World News

Rules to target 'irresponsible' officials




US Marine, Pakistani taken hostage in Iraq




Proof sought to sue Japan over WII weapon




Wu vows opener economic system




Lightning hits trees, kills 17 in Zhejiang




Death toll rises to 40 in attack in Iraq