Iraqi group threatens to behead US Marine
(Agencies)
Updated: 2004-06-28 07:45
Arab television broadcast videotape Sunday of two men said to be of Pakistani origin taken hostage by militants: a driver for an American company and a blindfolded man in military fatigues described as U.S. Marine lured from his base. Insurgents threatened to behead them both.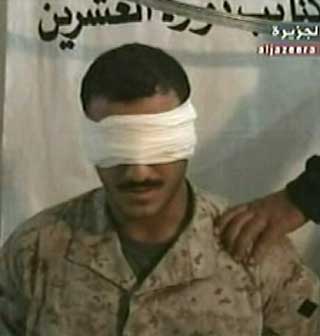 A television image aired by Al Jazeera June 27, 2004 shows a blindfolded man dressed in camouflage sitting in a chair with a hand holding a sword above his head. A Marine Corps identity card named him as Wassef Ali Hassoun and Jazeera said he was of Pakistani origin. Al Jazeera television said a group calling itself the Islamic Response Movement, the security wing of the "1920 Revolution Brigades", had kidnapped the U.S. Marine after luring him from a U.S. base. Militants have kidnapped a U.S. Marine and a Pakistani driver in Iraq and are threatening to behead them unless Iraqi prisoners are freed, Arab television reported on Sunday. [Reuters]

The U.S. command said Monday that a U.S. Marine has been missing from his unit in Iraq for nearly a week but it is unclear whether the man has been taken hostage.

The tape showed a blindfolded, mustached man wearing a blindfold and displayed a Marine identification card in the name of Wassef Ali Hassoun. Al-Jazeera said he was of Pakistani origin.

In the statement, the military said a corporal by that name had been missing from his unit in the 1st Marine Expeditionary Force since June 21. The statement said Hassoun was of Lebanese descent.

"Contrary to press reports, however, Naval Criminal Investigative Services cannot confirm that Cpl. Wassef Ali Hassoun has been taken hostage," the statement said. Various press reports the morning of June 28 stated that Hassoun, who is of Lebanese decent, had been taken hostage.

Al-Jazeera said the militants demanded the release of all Iraqis "in occupation jails" or the man would be killed. The group claimed it infiltrated a Marine outpost, lured the man outside and abducted him.

The kidnappers identified themselves as part of "Islamic Response," the security wing of the "National Islamic Resistance - 1920 Revolution Brigades." The name refers to the uprising against the British after World War I.

The group, which has claimed responsibility for previous anti-American attacks, first surfaced in an Aug. 12 statement claiming the United States was hiding its casualty tolls in Iraq to help President Bush's election chances.

U.S. officials believe the insurgency consists of several groups with different ideologies, among them Arab nationalists, former Baath Party members and Islamic extremists.







Today's Top News
Top World News

Rules to target 'irresponsible' officials




Iraqi group threatens to behead US Marine




Proof sought to sue Japan over WWII weapon




Wu vows opener economic system




Lightning hits trees, kills 17 in Zhejiang




Iraq invasion an 'enormous mistake'