Bush pledges to push Turkey to join EU
(Agencies)
Updated: 2004-06-27 16:58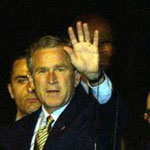 U. S. President George W. Bush waves to cameras upon his arrival at Esenboga airport in Ankara late Saturday, June 26, 2004. Bush will hold talks with Turkish leaders in Ankara and attend a NATO meeting in Istanbul. [AP]

President Bush pledged Sunday that he will fight for Turkey to become a member of the European Union, and praised this country as a Muslim nation which embraces democracy and the rule of law.

He held out Turkey as a model for the Middle East as he met with Prime Minister Recep Tayyip Erdogan at the start of an official visit to Turkey a day before a summit in Istanbul of the 26-member NATO alliance.

Bush, on his first-ever trip ever to Turkey, ignored reporters' questions about the capture in Iraq of three Turkish workers by supporters of Abu Musab al-Zarqawi, a Jordanian-born terrorist believed to have ties to al-Qaida, who kidnapped three Turkish workers in Iraq and threatened to behead them within 72 hours.

A White House spokesman, Sean McCormack, said: "We're in close contact with the Turkish government on the issue. It is an awful reminder of the barbaric nature of these terrorists but their acts will not shake the will of free people everywhere."

Bush's visit to Turkey would focus on ways to strenghten NATO, which he is pushing to take a greater military role in Iraq.

"I will remind people of this good country that I believe you ought to be given a date by the EU for your eventual acceptance into the EU," he said.

Bush said he and Erdogan would discuss "matters regarding the neighborhood — Iraq and elsewhere."

"I appreciate so very much the example your country has set on how to be a Muslim country and at the same time a country which embraces democracy and rule of law and freedom," Bush said.

During stops in Ankara and Istanbul through Tuesday, Bush hopes his NATO allies will formally agree to train Iraqi security forces.

"Every indication I have now is that NATO is coming together to say that they would be willing to provide police and military training to Iraqi forces," Secretary of State Colin Powell said on CNN.

And the president is hoping his talks with Turkish leaders will smooth America's partnership with the only Muslim nation in the Western alliance.




Today's Top News
Top World News

Rules to target 'irresponsible' officials




Iraqi group threatens to behead US Marine




Proof sought to sue Japan over WWII weapon




Wu vows opener economic system




Lightning hits trees, kills 17 in Zhejiang




Iraq invasion an 'enormous mistake'