Three Turks Held in Iraq; Blast Kills 19
(Agencies)
Updated: 2004-06-27 08:57
Militants loyal to Abu Musab al-Zarqawi said Saturday they have kidnapped three Turkish workers and threatened to behead them in 72 hours, heightening tensions as President Bush visited Turkey.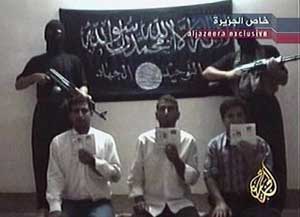 Image from a video released to the Al-Jazeera television network Saturday June 26, 2004 showing three Turkish men kidnapped by the Tawhid and Jihad movement, allegedly led by Abu Musab al-Zarqawi. A statement issued with the video threatened to execute the men within 72 hours unless Turkish companies ceased doing business with US forces in Iraq, an Al-Jazeera anchor said. The men, kneeling foreground, are holding their passports to the camera. (AP)
In new violence, an explosion possibly from a car bomb ripped through downtown Hillah, a largely Shiite Muslim city south of Baghdad, killing 19 people and wounding around 60, a senior Iraqi police official said. The official described the blast as a vicious attack on Iraqi civilians.
The bloodshed and the abduction — the latest claimed by al-Zarqawi's movement, which beheaded two previous hostages, an American and a South Korean — threatened to cast a shadow over a NATO summit opening in Istanbul Monday, where Bush is seeking the alliance's help in stabilizing Iraq.
The kidnappers demanded the Turks hold demonstrations protesting the visit by the "criminal" Bush and that Turkish companies stop working in Iraq, or else the hostages would be killed.
Iraq's interim prime minister warned that if security does not improve, it may become necessary to delay national elections set for January — a key landmark in the path to democracy that the United States has tried to enshrine before handing power to the Iraqis on Wednesday.
The Jan. 31 deadline for elections laid out in Iraq's interim constitution is "not absolute yet ... But we hope, and all of us will work toward that objective," Allawi told CBS News in an interview.
"However, security will be (the) main feature of whether we will be able to do it in January, February or March," he said.
In central Baghdad, insurgents killed a U.S. soldier in an attack on a patrol Saturday, the military said.
Gunmen launched new attacks in the city of Baqouba, northeast of the capital, sparking battles that killed six insurgents and three civilians. The city was the scene of fierce fighting in a surprise offensive launched by al-Zarqawi on Thursday.
The Arab television station Al-Jazeera aired a video issued by the kidnappers, showing the three Turks kneeling on the ground in front of two black-clothed gunmen and a black banner emblazoned "Tawhid and Jihad," the name of al-Zarqawi's organization. The men held up Turkish passports.
In a written statement, the group demanded Turkish companies stop doing business with American forces in Iraq and called for "large demonstrations" in Turkey against the visit of "Bush the criminal."
It said that if Turkey refused their demands the hostages "will receive the just punishment of being beheaded."
Al-Jazeera received the tape Saturday, an employee at the station told The Associated Press. The statement did not say when or where the three were abducted. It appeared the deadline was Tuesday, but the message did not specify what time it runs out.
The three men disappeared two days ago, said a Turkish consular official in Baghdad who asked to be identified only by his surname, Gungor. He said he had no further information.
The abductions are likely to stoke anti-war sentiment in Turkey, where Bush is already extremely unpopular. Hours ahead of his arrival in Ankara, police battled scores of protesters Saturday, eventually firing tear gas to disperse them.
News of the latest abduction came as the body of Kim Sun-Il, a South Korean worker decapitated by al-Zarqawi's followers last week, was brought back to his hometown, Busan.
His slaying has prompted nightly vigils in the Korean capital, Seoul, urging the government to call off its plans to send 3,000 troops to Iraq beginning in August.
Last month, al-Zarqawi's group also claimed responsibility for the beheading of American businessman Nicholas Berg. And on Thursday, fighters loyal to al-Zarqawi launched a wave of coordinated attacks in five cities in Iraq, battling with U.S. troops who eventually regained control but only after some 100 people, including three Americans were killed.
The explosion in Hillah, 60 miles south of Baghdad, came Saturday evening outside the former Saddam Hussein mosque in a shopping area where residents traditionally while away hours in the cool of the evening, said police Brig. Gen. Qais Hamza Aboud, the commander of police in surrounding Babylon province.
Aboud told The Associated Press that the blast was caused by a booby-trapped car. He said it was a clear attack on civilians — men, women and children — because there were no police or coalition soldiers in the area. He said nine other cars were set ablaze and that many of the injured suffered severe burns.
Today's Top News
Top World News

Rules to target 'irresponsible' officials




US Marine, Pakistani taken hostage in Iraq




Proof sought to sue Japan over WWII weapon




Wu vows opener economic system




Lightning hits trees, kills 17 in Zhejiang




Iraq invasion an 'enormous mistake'