Pakistani PM resigns, dissolves cabinet
(Agencies)
Updated: 2004-06-26 23:30
Pakistani Prime Minister Zafarullah Khan Jamali announced his resignation and the dissolution of his Cabinet on Saturday, ending months of speculation that his relationship with the country's military ruler was strained.
The leader of the ruling party, Chaudhry Shujaat Hussain, was nominated to replace Jamali.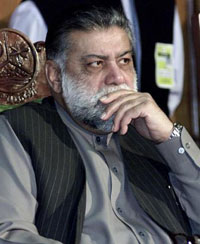 Pakistan's Prime Minister Zafarullah Khan Jamali, seen in this undated file photo taken in Muzaffarabad, resigned Saturday June 26, 2004 , two senior officials told The Associated Press, following months of speculation that his relationship with the country's military ruler was strained. [AP/File]

"I resigned from my post as prime minister today," Jamali told reporters after a gathering of the PML-Q party.

Jamali said he hoped the decision would help the nation's political process, but did not elaborate.

Hussain is all but certain to win the necessary vote of confidence in parliament, where the ruling party enjoys a commanding majority. A vote was expected within days.

Observers say Musharraf, who met earlier Saturday with Jamali, had grown impatient at Jamali's inability to rein in opposition lawmakers and effectively defend the government's approach.

The move was unlikely to have a significant impact on foreign policy, including Pakistan's support for the U.S.-led war on terrorism and tentative peace talks with India. But it raised fresh concern about the country's return to democracy.

As recently as Friday, Jamali had sought to quash rumors that he was on his way out and that his relationship with Musharraf had chilled. Jamali and Musharraf met earlier Saturday.

Liaqat Baluch, an opposition lawmaker, accused Musharraf of trying to ensure that no strong political rival can emerge.

"They stoked the fire around Jamali and then pushed him into it," said Baluch, a member of the six-party religious coalition opposed to Musharraf. "The military rulers want to maintain their supremacy so that no political government is stable."

Under powers granted in constitutional amendments, Musharraf has the power to dismiss Jamali and Parliament if he chooses. The two men met earlier Saturday, but the prime minister said he stepped down rather than be fired.

One of the country's most-seasoned politicians, Jamali became prime minister in November 2002 after the PML-Q, which supports Musharraf, won the most seats in elections the month before.

His appointment helped ease concerns in the West about the rise to prominence of ultraconservative religious parties. But those worries flared anew last month when Maulana Fazlur Rahman, a pro-Taliban cleric, became leader of the opposition.

But he also drew stiff criticism from Pakistan's two other major political parties — the PML-N and the Pakistan People's Party.

Both parties' leaders are in exile, embittering a political climate heated by a string of assassinations of politicians as well as sectarian violence and deadly fighting between the Pakistani Army and al-Qaeda militants near the Afghan border.

On Saturday, gunmen riding a motorcycle sprayed a car carrying Bin Yamin Rizvi, a local PML-N leader, with bullets in the eastern city of Lahore, killing him along with his driver and bodyguard.

Lahore police chief Tariq Saleem said he had no leads on who was behind the attack.

But party spokesman Sadique al-Farooq condemned the assassination and blamed Musharraf for "failing to keep law and order."

Two members of the Pakistan People's Party have been killed in the southern city of Karachi this year.

Musharraf has endorsed a constitutional amendment that theoretically would force him to quit as chief of the armed forces on Jan. 1, 2005. He would remain as civilian president until his term expires in 2007.




Today's Top News
Top World News

Fire caused by lightning rages in northern forests




Pakistani PM resigns, dissolves cabinet




Dozens of drug dealers executed in China




US arms sales to Taiwan sparks tension




Israel deputy PM visits grandpa's Harbin grave




China has a surplus of poor-quality MBA