S. Korea probe into Iraq hostage death
(Aegncies)
Updated: 2004-06-26 14:23
South Korea's parliament is to open a formal investigation into Seoul's failed attempts to rescue a Korean hostage beheaded in Iraq by an armed Islamic group.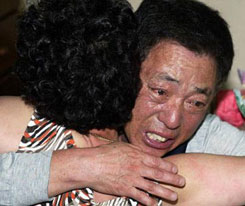 The parents of Kim Sun-il react after hearing of their son's death. [AP]

The decision came hours before the body of Kim Sun-Il, 33, was set to arrive here, with public anger over the killing and the government's alleged mishandling of the case reaching boiling point.

Two rival political parties, the ruling Uri Party and the opposition Grand National Party, agreed to open the inquiry to "get to the bottom of the case," said Lee Jong-Kul, deputy parliamentary leader of the Uri Party.

"There will be no sanctuary in this probe. We will look into all government agencies concerned," Lee said.

The probe will begin in earnest around July 10 after summonses being sent to witnesses, he said.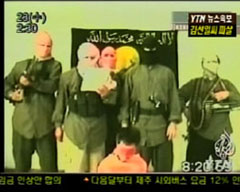 A video image released June 22, 2004 by Al Jazeera and S. Korean TV shows one of the kidnappers read a statement addressed to the Korean people, blaming the tragedy for the South Korean government's fault in sending army to Iraq.

Kim's body was found dumped on a road west of Baghdad on Tuesday after he was killed by militants belonging to the Tawhid wa al-Jihad (Unification and Holy War) group led by Abu Mussab al-Zarqawi and blamed by Washington for numerous attacks in Iraq since the fall of Saddam Hussein.

Media reports said Kim was abducted on May 31, nearly three weeks earlier than previously reported, and that diplomats may have been informed before militants issued their demands through Al-Jazeera, the Qatar-based satellite news channel, on Sunday.

The foreign ministry said it knew nothing of the kidnapping until it saw the Al-Jazeera broadcast.

However, controversy is swirling around reports that Kim's employer in Iraq, another Korean Kim Chun-Ho, visited the embassy in Baghdad four times between his disappearance and the date of the broadcast.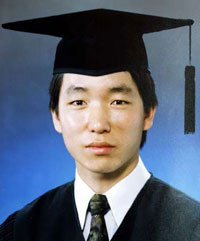 This undated handout picture shows South Korean Kim Sun-il who was kidnapped by Iraqi militants in Falluja, in Iraq on June 17. [Family Photo/Handout]

Questions are also being raised about a new video tape of Kim that was sent to a western news agency in Baghdad before Kim's abduction was made public.

The Associated Press said it telephoned the foreign ministry here on June 3 to check whether a South Korean had been kidnapped or reported missing in Iraq and was told that Seoul was "not aware" of any such case.

The foreign ministry on Friday confirmed the call was made but not reported to higher authorities. The confirmation further fueled public outrage, according to local media.

The killing has further polarized the country between anti-US and opponents of the war on one side and US supporters on the other.

Pro- and anti-war demonstrators took to the streets on Saturday in cities across the country.




Today's Top News
Top World News

Fire caused by lightning rages in northern forests




S. Korea probe into Iraq hostage death




Dozens of drug dealers executed in China




US arms sales to Taiwan sparks tension




Israel deputy PM visits grandpa's Harbin grave




China has a surplus of poor-quality MBA