Israel deputy PM visits grandpa's Harbin grave
By Li Fangchao (China Daily)
Updated: 2004-06-26 00:28
Ehud Olmer, Israel's Deputy Prime Minister, Friday paid respects to his grandfather who is buried in the Jewish cemetery in Harbin, capital of Northeast China's Heilongjiang Province.
"My grandfather will remain here forever, so this place is of great significance to me," Olmert said. "The place has become the symbol of the friendship between China and Israel."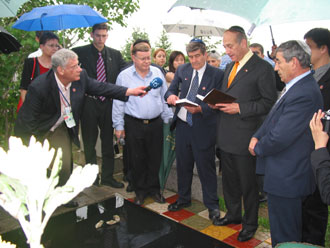 Israel's Deputy Prime Minister Ehud Olmer (2nd R) stands in front of his grandfather's grave at Harbin Huangshan Jewish Cemetery June 25, 2004. [newsphoto]

Olmert, also the Minister of Industry, Trade, Labour and Communications, had already visited Beijing and Shanghai before touring Harbin.

He is leading a 200-strong Israeli trade delegation -- the largestfrom that country ever to China -- as part of a push by Israel to boost trade with China.

The trip to Harbin has special meaning for Olmert.

Harbin still preserves the largest cemetery of Israelisin the Far East Region -- Harbin Huangshan Jewish Cemetery. Located in the east suburb of the city, the cemetery holds 677 graves, mainly of Israelis who once lived in Harbin.

"Historically, Harbin was once the largest political, economic, and cultural centre for the Jews in the Far East Region. At the end of the 19th century, a lot of European Jews migrated to Harbin with the construction of the Mid-East railway. In the 1920s, the number of Jews in Harbin reached its peak of more than 20,000," said Li Shuxiao, the director of the Jewish Research Center of the Heilongjiang Provincial Academy of Social Sciences.

"Diligent Jews formed an integrated social system in Harbin. They made great contribution to the city's economic development. These Jews are called 'Harbin Jews' in academic circles,"Li said.

The municipal government appropriates special funds for the preservation of the cemetery every year. A detailed record and a website have been set up to facilitate management.

Each year, many descendants of "Harbin Jews" from all over the world came back to Harbin. The number has increased steadily in recent years.

This year, an international symposium organized by the Jewish Research Centre of Heilongjiang Provincial Academy of Social Sciences and Sino-Israeli Friendship Association, on the history and culture of Harbin Jews will be held in Harbin from August 30 to September 2.

"Many scholars of Jewish culture from home and abroad as well as the Jews who once lived in China will join together for this event," said Qu Wei, the president of the academy.

A large-scale exhibition called "Jews in Harbin" will be held during the symposium to present still-existing relics left by the Jews who lived in Harbin, such as auditoria,hospitals, and rest homes.

This historical architecture isincluded in the city's list of protected architecture.




Today's Top News
Top China News

Fire caused by lightning rages in northern forests




Dozens of drug dealers executed in China




US arms sales to Taiwan sparks tension




Israel deputy PM visits grandpa's Harbin grave




China has a surplus of poor-quality MBA




Poor school kids get letter from Blair