Reservoir flow to save waterfowl
By Liang Chao (China Daily)
Updated: 2004-06-26 00:27
Officials started a cross-province project Friday to supply water to a drying wetland to ensure the survival of hundreds of endangered waterfowl, fauna and flora inhabiting the Xianghai National Nature Reserve.
In the next 25 days, more than 63 million cubic metres of water are scheduled to flow out of the Cha'ersen Reservoir in the Inner Mongolia Autonomous Region to the downstream wetland in Jilin Province, which has been plagued by four consecutive years of drought.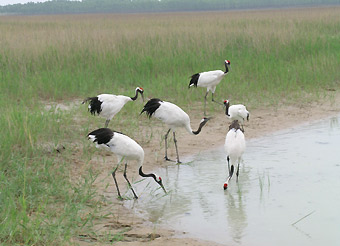 Red-crowned cranes ease their thirst at a dwindling pond on Thursday in Xianghai National Nature Reserve in Jilin Province, Northeast China. Water will be diverted from Inner Mongolia to the drought-hit home of dozens of species under State protection in the next weeks. [newsphoto]


The reserve, the largest of its type and host to numerous endangered wild animals and waterfowl species, was put on the International Important Marsh list in 1992 but is now close to drying up.

"Fifty million cubic metres of water will flow into the Xianghai Reserve through a 194-kilometre irrigation canal, then raise the water level up to 1.5 metres and make the drying swamp wet again," said Gao Yongchang, top official of the Cha'ersen Reservoir Administrative Bureau.

The release of the water, which could be used for hydroelectricity generation and irrigation, is estimated to be costing the Cha'ersen reservoir 6 million yuan (US$722,900).

This is the second time the central government has sacrificed economic benefits to revive wetlands and improve the worsening ecosystem.

In 2002, China launched its first campaign to supply water to a shrinking wetland area in an effort to protect endangered red-crowned cranes inhabiting the Zhalong National Reserve in Northeast China's Heilongjiang Province.

"Over 61 per cent of our 3,600 hectares of drying marsh will be hopefully rehabilitated to its primitive natural landscape soon with the supplied water," an official for the Xianghai National Nature Reserve said.

Zhao Jun, deputy-director of the reserve zone, was confident that the water from upstream Inner Mongolia could prevent hundreds of endangered species of fauna and flora from dying, including the Mongolian yellow elm and red-crowned cranes.

E Jingping, vice-minister of water resources, said he hoped the water transfer can prevent further shrinkage of the wetland. This would ensure the survival of all of the wetlands' endangered species and preserve biodiversity.

"It is of vital importance for China to help people be harmonious with nature and ensure sustainable development of the economy and society," he said.

The vice-minister vowed to optimize China's existing water resources in the years ahead. While ensuring water supply for the country's human inhabitants, the government will also use water to improve the country's ecosystem, he insisted.

As one of the major habitats for China's red-crowned cranes, Xianghai Wetland is home to about 50 of the elegant waterfowl, including 30 that have been artificially reared.

"The 15 pairs of red-crowned cranes have to be fed in a pen now due to the swamp's worsening drought which is damaging their natural food chain," said Zhao.

"Only one pair of artificially reared cranes can be set free in the marsh to breed naturally because of the lack of fish, a major food for the crane in the wetlands ," he said. "We have to feed the rest with fish bought from the market and well water."

Experts said drought has threatened the survival of Xianghai's wild fauna and flora in recent years.

Salinization and desertification can be clearly seen expanding in the reserve, shrinking its inland wetland and imbalancing the ecosystem.

Covering 105,460 hectares, the nature reserve contains nearly 30,000 hectares of woodland including Mongolian yellow elm, more than 12,000 hectares of lakes and water areas, 23,600 hectares of reedy swamp and 30,000 hectares of meadow.

Around 600 species of wild flora are found growing in the reserve, which is also home to 300 species of birds and 37 animal species. Of these, 10 species are under the government's top-level protection, with the other 42 listed for second-degree protection.

China has more than 600,000 square kilometres of wetlands, 10 per cent of the world's total and the largest area in Asia.

Known as "nature's kidneys,'' wetlands play a vital role in maintaining ecological balance by providing habitat to rare flora and fauna, restoring flood waters, controlling soil erosion and regulating climate.

Chinese wetlands are home to 1,540 varieties of plants and 1,500 species of fauna, including 300 species of waterfowl, which accounts for one-quarter of China's bird species.




Today's Top News
Top China News

Fire caused by lightning rages in northern forests




Dozens of drug dealers executed in China




US arms sales to Taiwan sparks tension




Israel's deputy PM visits father's Harbin grave




Poor school kids get letter from Blair




Reservoir flow to save waterfowl