Poor school kids get letter from Blair
By Guo Nei (China Daily)
Updated: 2004-06-26 00:14
Receiving a letter might not be so big a deal.
But for 11-year-old Ma Jinhua, this particular letter really meant a lot.
A school girl in the Dongxiang County of Northwest China's Gansu Province, Ma got a letter from British Prime Minister Tony Blair on Wednesday.
The girl, from a poverty-stricken rural family, has been overjoyed ever since.
Her classmates, most of whom have not even had the chance to go out of the county, are very impressed.
To Ma, the letter renews an acquaintance she made a year ago.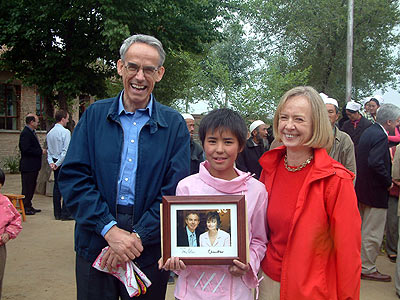 Diplomats from the UK Embassy to China pose with 11-year-old Ma Jinhua (C), a school girl in the Dongxiang County of northwest China's Gansu Province on Wednesday. The British Ambassador to China, Sir Christopher Hum (L), brought Ma a letter from British Prime Minister Tony Blair and a photo of Blair and his wife Cherie. [newsphoto]


In July 2003, Ma and three other Gansu girls were invited to go to Beijing to meet Tony Blair and his wife Cherie.

The four girls were chosen because they are all recipients of scholarships under a British Government funded project, the Gansu Basic Education Project, which is implemented by the Gansu Province Project Management Office and Cambridge Education Consultants.

It was the first time any of the girls had travelled outside their villages, and their excitement at seeing the sights and sounds of the capital was infectious.

On their return they were bombarded with questions by friends, relatives and other villagers. So they decided to write letters to Tony and Cherie Blair.

In May this year -- shortly after Premier Wen Jiabao's visit to the United Kingdom -- the girls were thrilled to hear that the Prime Minister had responded with a personal letter to all of them.

Blair said in the letter that the meeting with the girls last July gave he and his wife an opportunity to have direct contact with children from poor counties in China.

"We are aware of the difficult situation you are facing in struggling for a good education and life. However, your persistent and optimistic attitude greatly impressed us... We do hope through your own efforts and our support your dreams will come true."

Ma said: "I felt very happy when I got the letter."

Blair's letter was delivered to Ma by the British Ambassador to China, Sir Christopher Hum, on Wednesday, as he visited Ma's school, the Qiaolu Primary School in Dongxiang County.

Presenting the letter from Tony Blair personally to Ma Jinhua, as a representative of the four girls, the British Ambassador said the Gansu Basic Education Project has helped thousands of girls and boys from poor families to realize their dreams by attending school.

"When Ma Jinhua met the Prime Minister and his wife, she said she wants to be a teacher. We all know how important teachers are to society. I hope her dream will come true," he said.

Ma said the letter made her more committed to becoming a teacher.

"I admire Ma Jinhua very much," said Ma Juying, her classmate, who wished that she, too, could meet Blair one day.

In Ma's school there are 30 children receiving scholarships through the education project, said Tang Jinhai, headmaster of the Qiaolu Primary School.

The project started helping the school in 2001. Each of the children receive 35 yuan (US$4.20) a year.

Tang said the money is half of that needed by each child for their study.

The assistance lessens the burden on the children's parents, most of whom are poor farmers, Tang said.

But he also expressed concern: "In 2005, the project will end. I do not know whether the assistance will continue or not."

If it does not, Tang said he is afraid that many of the children will have to quit school.




Today's Top News
Top China News

Dozens of drug dealers executed in China




Fire rages in northern forest




US arms sales to Taiwan sparks tension




Poor school kids get letter from Blair




Reservoir flow to save waterfowl




Six parties take nuclear freeze as first step