Too young to be independent
(Beijing Review)
Updated: 2004-06-24 09:16
"Dear daddy and mommy, you are not home, I really miss you. Sometimes I dream of you and cry. Grandpa heard my crying and said that you are heartless and you won't take care of me any more…."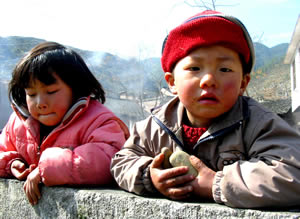 One day, I passed by a small shop near my school and I saw a public telephone. Suddenly, I had the idea of calling you but I don't know your number. I could only cry in front of the phone..."
This is a composition titled "A Letter to Father and Mother," which Shi Feng, a second-year junior high school student in Lunan County in Shandong Province, wrote as a school assignment. After the Spring Festival this past February, Shi's parents went to a distant city to find work, leaving the boy at home with his grandparents.
Going over her students' compositions, Tan Xiaoli was taken aback and regretted that she touched on such an emotional subject. She found that 23 out of the 43 students in her class have parents who have left town for work in a city. In the compositions, most of the children expressed regret, while many also complained of their hardships, feeling deserted by their parents. "They should not be made to suffer because they have no parents to care for them and love them," said the teacher.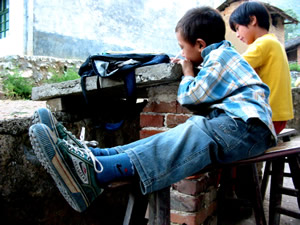 Many Chinese farmers leave their hometowns to find relatively higher wages in cities. The work is usually unskilled labor, often needing to stay year-round to get paid. This phenomenon has produced a segment of rural children much like Shi Feng who are virtual orphans. These children are living far from their parents, which created family and educational problems. "How to help this group of children receive a normal education so that they can grow up sound and happy has become a big concern," said Lu Shizhen, Vice Chairwoman of the China Youth and Children Research Association.
Another Cost of Urban Migration
A survey conducted by the Society Survey Institute of China (SSIC) on 670 rural residents (the proportion of adults to minors surveyed is 6:4) in several provinces across the country shows that 57.2 percent of those surveyed say that, in their families, both the husband and wife have left home to work in other places; 35.7 percent of them say that only the husband has gone; 47.1 percent of these men and women leave their children at home with their grandparents; 27.1 percent of them leave children at home with other relatives; 18.7 percent of them take their children with them to cities; and 7.1 percent of them put their children in boarding schools in their hometown.
Lu Shizhen believes that there are many problems facing this group of "abandoned" children.
"First, some of these children's basic rights cannot be guaranteed," Lu said. "Many grandparents or other relatives are incapable of taking care of the children because of age or financial problems." As a result, the children's health, education and entertainment needs have often failed to be met in recent years, she noted. Not long ago, counterfeit milk powder caused 13 infant deaths in Fuyang, Anhui Province. Most of these infants had parents working outside their hometown.
"Second, lack of communication with their parents can have adverse effects on the personality and psychology of these kids," said Lu. Data from the SSIC show that 60 percent of the parents surveyed make contact with their children only once a month. Another 10 percent have even less contact with their children, maybe returning home for the annual Spring Festival.
Extended periods of time without communication with parents erodes a child's social skills, making them less willing to talk with others; they become withdrawn. Many spend most of their time outside of the house, with some getting into trouble with local authorities.
"The children eagerly long for care and love," said Lu. Most of the children surveyed hope to live with their parents again. Many say that they would be willing to go with their parents to the place they work.
Generation Gap
Most of the children's grandparents take care of the kids whose parents work and live in far off cities. As their age difference is between 43 and 71 and the illiteracy rate among old rural residents is over 40 percent, they can only take care of their grandchildren's basic needs like cooking and cleaning, but cannot help them with their studies.
Deng Zhengyi, an expert on rural education, believes these children are missing out on parental guidance, which is crucial in forming sound morality and general mental development. They lack psychological care, which their grandparents are not able to properly provide. These children will be more prone to psychological problems, emotional fragility, feelings of abandonment and even criminal tendency than their counterparts from two-parent homes, Deng said.
They also seem to have a harder time accepting criticism, which leads to higher instances of running away and suicide.
According to data provided by the SSIC, when experiencing personal problems, 50 percent of the children surveyed said they just keep the matter to themselves, 28.6 percent said they would tell a good friend, 14.3 percent tell the relatives they live with, while only 7.1 percent talk to their parents.
Seven students of the Education School and Psychology Association of Hubei University conducted a questionnaire survey with 250 students attending the Liuhe Middle School in Qichun County, Hubei Province. The children's parents are all manual workers residing outside their hometown. Results show that their parents often feel "guilty" for having to be apart from their children and have tried to compensate them with gifts while overlooking moral guidance. Discipline is lacking in many of these households. They tend to be late for school or simply skip school to go to Internet cafes to play online games.
In rural Xinshao County, Hunan Province, most of the young parents have left the villages looking for better opportunities, leaving their children with their grandparents.
It is common that grandparents end up pampering the children, afraid or unable to exercise discipline. They tend to push the responsibility of educating the children to schools, which causes a vacuum in family education. So, when the teachers find problems, they have no adult with whom they can communicate to work them out.
"Old people in rural areas tend to have a very traditional and conservative outlook. So, the pre-school education of these children left with their grandparents falls behind others, which is an obstacle to their growth," said Deng Zhengyi.
Ways to Help
How to address the needs of this new marginalized group of children so that they can have an equal chance to grow up soundly has become a real problem that needs to be solved immediately, says Wang Bozheng, professor with Beijing Normal University's Department of Education.
On May 24, China's first committee to attend to this problem was established at Linzi Primary School in Rugao City, Jiangsu Province. The school has 604 students, whose parents have left their hometown to find work, account for 51.2 percent of its enrolment.
To explore the educational problems of this group of rural students, the education authorities of Boluo County, Guangdong Province has established an archives system in some schools, which takes record of the students' behavior, study and living situations as well as their parents' addresses and telephone numbers. Their counselors, who manage the archives, pay regular visits to these students' families. They inform the grandparents of their school performance as well as offer advice on how to cooperate with the school to assume a parental role. The school has also established ties with local villagers committees, calling on village managers and other sectors of society to join in their effort to educate these children.
Sun Xiuchao, a resident of Yandian, a town in Hubei Province, has his own way to help these children.
In 2002, Sun borrowed an old standby house from a local bankrupt foodstuffs factory and established a place for primary students whose parents work out of town to live, becoming a surrogate father for these children. There are now 63 children living in the house. Besides their meals, Sun, who was a teacher, also supervises their studies. At half past six every evening, Sun asks the children to begin their homework. They are in bed by half past eight. Sun has also covered hospital costs and monitors their health. It is a sort of independent orphanage.


Today's Top News
Top Life News

Price hikes not to stop until October




DPRK: Concrete plans can help nuclear talks




China set to clarify bankruptcy protection




Audit: US$170 million discovered misused




Boat sinks killing one, 43 lost




Locust plague devastates crops