Adjusted US terror report doubles earlier numbers
(Agencies)
Updated: 2004-06-23 10:07
'Significant attacks' at 21-year high, revised data show

The U.S. government restated its 2003 accounting of terrorist attacks Tuesday, reporting a sharp increase in the number of significant attacks and more than doubling its initial count of those killed.
The U.S. State Department's annual Patterns of Global Terrorism report now counts 208 terrorist attacks as having occurred in 2003, with 625 dead. When the report was released in April, it counted 307 deaths in a total of 190 terror attacks.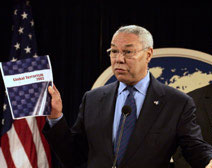 US Secretary of State Colin Powell holds a copy of the revised State Department terrorism report Tuesday. [AP]

The number of people killed in terrorist attacks worldwide still declined in 2003 when compared with 2002, when 725 people were killed. But the decline was much less steep than originally reported, and the number of "significant attacks" -- those involving large numbers of casualties or property damage -- increased from 138 in 2002 to 175 in 2003, a 21-year-high.

"We have 18 more total events, five more significant events and 13 more nonsignificant events than originally reported," said Cofer Black, the State Department's counterterrorism coordinator. "These new figures are accompanied by a dramatic increase in the numbers of casualties originally calculated."

The number of attacks originally reported was the lowest total since 1969, but Secretary of State Colin Powell said earlier this month that the reported decline was incorrect.

Researchers Alan B. Krueger of Princeton University and David Laitin of Stanford University reported in May that the number of significant attacks represented a 36 percent increase over 2001, up from 124 that year.

Democratic Rep. Henry Waxman of California has suggested the numbers were being "manipulated" to serve the Bush administration's political interests.

The State Department eventually conceded that the original report failed to include a number of deadly attacks in the latter part of 2003, including a car bomb that exploded in a housing compound in Riyadh, Saudi Arabia, and a series of attacks in Istanbul, Turkey, all of which took place in November.

"For the past two weeks now, we have had a major effort under way within the State Department to get to the bottom of the data error and determine what corrections were appropriate and to make those corrections so we could show those corrections to the American people," Powell said Tuesday.

Powell previously blamed the erroneous conclusions on mistakes, not political pressure.

Black said the report was "marred by significant errors" when it was originally released. But he said those errors were the result of "honest mistakes, and certainly not deliberate deceptions."

The information was compiled by the CIA and the Terrorist Threat Information Center, which includes officials from the Pentagon, the Department of Homeland Security, the FBI and the CIA.

John Brennan, director of the federal Terrorist Threat Integration Center, said a database error caused his agency to provide incomplete statistics to the CIA. The CIA then passed those incomplete numbers along to the State Department.

Brennan said he took responsibility for the error, but "Anyone who might assert that our numbers were intentionally skewed is mistaken."




Today's Top News
Top World News

Iraq militants behead South Korean hostage Kim




Epidemic control to enter national plan




Wen: China, US share wide interests




US approved use of dogs against prisoners




ACD nations issue energy strategy




Progress expected from six-party talks