Transport problems, high prices impede
By Xiao Xie (China Daily)
Updated: 2004-06-23 09:42

Coal supply to power plants continues to be strained, adding to the problem of an already tight power supply throughout most of China.

As coal mines struggle to keep up with surging consumption, limited transportation has become the biggest bottleneck to stable coal supply.

Soaring coal prices have also caused the situation to deteriorate with some power plants that are unable to afford the price hikes being forced to shut down operations.

The situation is unlikely to be significantly improved in the short term, analysts said.

Demand for thermal coal has continued surging to feed electricity generation which has increased by nearly 16 per cent in the first five months year-on-year.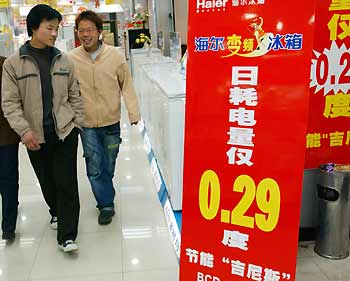 People pass an energy-saving advertisement for refrigerators at a household electric appliance shop in Zhengzhou, Central China. People are increasingly aware of saving energy when choosing electric appliances.[newsphoto]

Coal mines are working around the clock to catch up with demand. In the first six months, China's coal production increased by 17.5 per cent year-on-year to 724.8 million tons.

Analysts said coal market supply and demand is in balance. But insufficient transportation capacity has restricted the coal flow from major mines in the Inner Mongolia Autonomous Region and Shanxi Province in the north to power plants in the east and south.

Some short-haul cargo has been shifted to railways after the government toughened the inspection of overloaded trucks at the end of last year. This has contributed to tight rail transportation.

The worst coal supply crunch came in April and May when railways were busy carrying grain and fertilizer to meet the demands of the planting season.

The coal stockpile had declined to a two-decade low of 98 million tons by the end of April. This represents a 20 per cent decrease compared with the same period last year.

Many coal plants had only enough coal stockpiled to sustain operations for less than a week.

Chinese power plants sign coal purchase contracts with coal mines at the beginning of the year to settle 40 per cent of their consumption.

The rest is purchased on the spot market where prices are higher than the contracted prices.

Power and coal companies had agreed to raise the contracted prices by 12 yuan (US$1.45) a ton, or 10 per cent, at the beginning of this year. Some companies agreed only on the amount of coal to be supplied, leaving prices to be negotiated later on.

Spot market prices, however, have increased by at least 30 per cent in the first five months.

Some coal companies have refused to observe the contracts, while power companies have refused to pay higher prices.

The standoff has forced some power plants to shut down as coal supply was halted.

The central government is working hard to ensure the coal supply. It is concerned that the bottleneck could disturb stable power generation, causing great trouble to the economy and social stability.

Twenty-four provinces and regions, or two-thirds of the nation's territory, have experienced brownouts, power switch-offs or electricity rationing during the period.

The electricity shortage could be more severe in the summer when more air conditioners eat into consumption.

Amid the concern, the central government is making every effort to increase coal transportation.

"Priority should be given to coal for the nation's major power grid and power plants," Railway Minister Liu Zhijun said.

Two-thirds of the rail cargo capacity has been used for coal transportation.

Meanwhile, the government requires State coal mines to ensure adequate coal supply to power plants.

In the latest development, the NDRC has ordered irrational charges on coal production companies be cleared up to alleviate the coal price surge.

Still, the tight coal supply is likely to continue, analysts said.

"The thermal coal supply to power plants continues to be constrained," said Trina Chen, a coal industry analyst with Merrill Lynch (Asia Pacific) Ltd. "Even though the coal prices have shown signs of easing, it is not optimistic that the coal supply will be much improved in summer when electricity consumption peaks."

Electricity shortages at peak times in the second quarter are estimated to exceed 20,000 megawatts, while the third quarter is expected to face a 30,000 megawatt shortfall, according to the State Electricity Regulatory Commission.

Last year, China's generating capacity fell short by 15,000 megawatts.

Chen expected coal prices to stay at a high level in the second half of this year and next year because of the strong demand from the power industry.

But as the government's efforts to cool down the economy take effect, it is unlikely that coal prices will continue to surge, Chen said.

"There is little room for coal prices to further increase, but it is also difficult to see them slumping," said Chen.