Slain Korean not the last
(Agencies)
Updated: 2004-06-23 08:38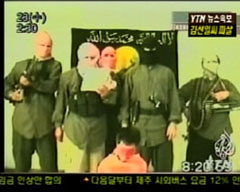 A video image released June 22, 2004 by Al Jazeera and S. Korean TV shows one of the kidnappers read a statement addressed to the Korean people, blaming the tragedy for the South Korean government's fault in sending army to Iraq.

The pattern has become chillingly familiar. First the kidnap, then the message from the kidnappers, usually on the Qatari satellite network al-Jazeera, or on an Islamist Web site. And finally, in response to a rejection of the kidnappers' demands, the "execution," the plunge into oblivion as the ritual is once again played out to its cruel, senseless end.

So it was with Kim Sun-il, the 33-year-old South Korean interpreter kidnapped in Baghdad Thursday by Islamist militants.

On Tuesday, the last moments -- or almost the last moments -- of Kim's life were relayed through al-Jazeera. Kim was shown kneeling in front of three of his hooded captors, apparently minutes before he was decapitated. One had a large knife tucked in his belt. Another read from a piece of paper. "We warned you," he declared. "Now you see the consequence of what you did not do. Stop your lies. You are not here for the Iraqis, but for the damned Americans."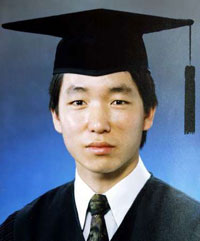 This undated handout picture shows South Korean Kim Sun-il who was kidnapped by Iraqi militants in Falluja, in Iraq on June 17. [Family Photo/Handout]

A few hours later, a U.S. patrol discovered Kim's headless body somewhere between Fallujah and Baghdad.

What made the fluent Arabic speaker a suitable target, according to observers, was that he worked for a South Korean trading company that supplies food to U.S. forces in Iraq. He was grabbed off the street in Fallujah by gunmen from the group calling itself Jamaat al-Tawhid wal Jihad (Monotheism and Struggle). On Sunday, the group threatened to decapitate him unless South Korea announced within 24 hours that it would withdraw its troops in the U.S.-led coalition.

The Seoul government's immediate reaction was to reject the threat and to confirm that it was going ahead with plans to increase its contingent by another 3,000 men, making it the fourth-largest military presence in the coalition after the United States, Britain and Poland.

At the same time, South Korean sources were quoted as saying that they were in contact with the kidnappers through indirect channels. Thus, a dim light of hope appeared before the final, ultimate despair.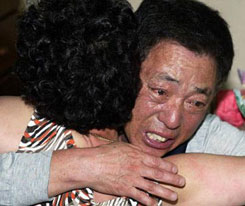 The parents of Kim Sun-il react after hearing of their son's death. [AP]

In his appearance on al-Jazeera -- also part of the ritual -- Kim delivered an emotional appeal: "Korean soldiers please get out of here!" he cried in English. "I don't want to die! I don't want to die! My life is important!"

It's been reported that his kidnappers are led by the notorious Abu Musab al-Zarqawi, a Jordanian said to have ties with al-Qaeda. But everything -- absolutely everything -- in this shadowy war of masks, lies and sinister inferences must always be viewed with enormous caution.

Still, al-Qaeda-linked groups have been busy in the region of late. The same group is said to have responsible for the "execution" of American businessman Nick Berg. Last week, another American Paul Wilson was decapitated by militants said to be tied to al-Qaeda in Saudi Arabia after the Saudi government failed to comply with a demand to release several jailed terrorists.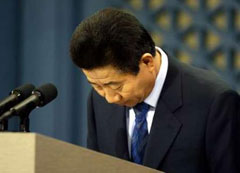 South Korea's President Roh Moo-hyun bows before he speaks to the nation at the presidential Blue House in Seoul June 23, 2004. [Reuters]

A few weeks earlier suspected al-Qaeda militants had carried out a bold attack on an oil company residential and office compound in the Saudi town of Khobar in which 22 people died before Saudi security forces rescued the occupants.

Clearly, the clockwork orange of Islamist terrorism has the dual role of destabilizing Iraq -- as the June 30 deadline for handing over sovereignty to an Iraqi pseudo-government approaches -- and undermining the Saudi kingdom. In Iraq, the favorite targets are civilians connected with the coalition, and, for good measure, key oil installations. In Saudi Arabia, the aim is to hit the U.S. and other foreign oil companies in an attempt to force out the foreigners, the technicians, the contractors and the bankers, leaving the Saudis to their own inevitable fate. In both cases, the long-term objective is decapitation of another kind -- of the hugely oil-dependent Western economies.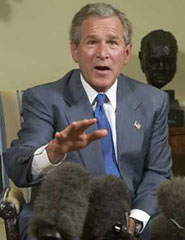 US President Bush urged S. Korean President Roh Moo-hyun not to be intimidated by Iraqi militants who beheaded a South Korean hostage June 22, 2004. [Reuters]

U.S. President Bush is fond of repeating, "America will not be intimidated." But there are other more vulnerable targets. As far as Iraq is concerned, there are still 30 coalition countries with troops in Iraq, and perhaps not all of them are imbued with the same resilient spirit. It could be a matter of time, coalition officials in Baghdad believe, before al-Zarqawi's boys -- or someone else's, for that matter -- grab a civilian and force a country to buckle and withdraw its troops.

The killers of Wilson and Kim are even now sharpening their knives for their next victim. They know they cannot force Bush to pull out of Iraq because for him that would be political suicide. But given the ever-growing unpopularity of the Iraq debacle for other coalition leaders, it could be a welcome excuse -- and a political advantage.




Today's Top News
Top World News

Iraq militants behead South Korean hostage Kim




Epidemic control to enter national plan




Wen: China, US share wide interests




US approved use of dogs against prisoners




ACD nations issue energy strategy




Progress expected from six-party talks