Iran to prosecute British Navy sailors
(Agencies)
Updated: 2004-06-22 15:26
Iran will prosecute eight British sailors held overnight along with their three boats after apparently straying into Iranian waters near the Iraqi border, Iran's state-run al Alam television said Tuesday.
The incident -- the latest in a string of boat seizures in the Gulf area by Iran's Revolutionary Guards -- was the most serious between Iran and foreign forces operating in Iraq and likely to put a serious strain on ties between Tehran and London.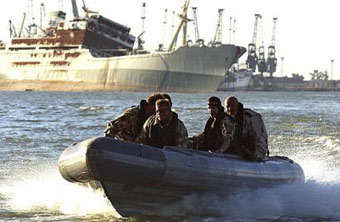 A Royal Navy patrol boat on patrol in the Shatt al Arab waterway that runs through the heart of Basra in southern Iraq, in this December 2003 file photo made available Monday June 21, 2004. [Reuters]

A Foreign Office spokeswoman in London said Britain's Foreign Secretary Jack Straw spoke by telephone with his Iranian counterpart Kamal Kharrazi about the seizure of the British vessels and crew Tuesday morning.

She declined to give any details of the talks and could not say whether there had any been any progress on getting the Britons released.

"Iran intends to prosecute the eight British detainees on charges of illegally entering Iran's waters," al Alam reported, citing unnamed Iranian military sources.

"The British military officials were arrested after they entered 1,000 meters into Iranian waters. The British confessed that they were arrested when they were inside Iran's waters."

A spokeswoman for the British Embassy in Tehran said British diplomats had requested permission to visit the detained men.

"We have asked for full details on who is holding them, where they are and for access to them," she said.

Three British Vessels Seized

Iran Monday confiscated three British naval vessels and arrested eight armed crew members. The Royal Navy acknowledged it had lost contact with three small patrol boats on a routine mission in the waterway between Iraq and Iran.

"I can confirm that three small Royal Navy patrol boats and eight crew have been out of communication since the early hours of this morning," said a British military spokesman in the southern Iraqi city of Basra on condition of anonymity. "It is not unusual for the Royal Navy to be patrolling the Shatt-al-Arab" waterway.

Iranian-British relations have been strained in recent days, since London helped draft a resolution at the International Atomic Energy Agency's board of governors meeting last week in Vienna that rebuked Iran for past cover-ups involving its development of nuclear technology.

Iran says its program is aimed only at producing energy, while the United States accuses Tehran of trying to develop nuclear weapons.

The three British vessels entered Iranian territorial waters not far from the Iran-Iraq border, the Arabic language Al-Alam television reported.

Iranian forces "confiscated" the vessels and eight military personnel who were on board, the report said.

Iran's Foreign Ministry spokesman Hamid Reza Asefi confirmed the report, according to Iran's main Persian language TV channel.

"Interrogation of those detained will continue until the matter is clarified," Asefi was quoted as saying.

The Iranian TV report said crew members were carrying maps and weapons. It also said the vessels were confiscated about 11 a.m. between the Bahmanshir and Arvand rivers, which would put them in the Shatt-al-Arab waterway east of the Iraqi city of Faw.

The ministry said there were no British warships operating in the Shatt-al-Arab waterway but some smaller vessels were there.

The British Royal Navy has been training Iraqi personnel in coastal defense for several weeks on the waterway.




Today's Top News
Top World News

NPC weighs momentous new bankruptcy law




Chinese furniture makers protest US duties




Asian nations vows to meet oil needs




FM sets up new branch to enhance security




Iran to prosecute British Navy sailors




Pro-independence investors not welcome