S.Korea says no news on fate of Iraq hostage
(Agencies)
Updated: 2004-06-22 10:34
South Korea is asking for cooperation from around the world to help free a hostage threatened with beheading in Iraq but does not know for sure he is alive, the foreign ministry said on Tuesday.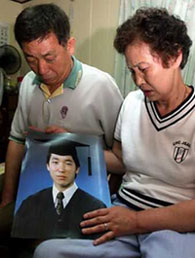 Shin Young-ja (R), mother of South Korean businessman Kim Sun-il who was kidnapped by Iraqi militants in Falluja, looks at a picture of her son with her husband Kim Jong-kyu in Pusan, June 21, 2004. Muslim militants in Iraq threatened to behead Kim Sun-il by Monday night unless his country scrapped plans to send 3,000 more troops -- a demand rejected by Seoul. [Reuters]

A task force set up to tackle the crisis met early in the day and the National Security Council that advises President Roh Moo-hyun would meet later, Shin Bong-kil, the ministry's chief spokesman, told reporters.

A group Washington accuses of links to al Qaeda set a Monday night deadline when 33-year-old Kim Sun-il was shown pleading for his life in a video tape on Al Jazeera, an Arabic television station. The deadline passed with no news of his fate.

Seoul has rejected the militants' demand it withdraw its plan to send 3,000 troops to Iraq to join some 670 already there.

"We don't have any new information for now. The situation in Iraq is changeable. The government has put in every effort for the safe return of Kim Sun-il," Shin said.

Asked whether the government knew whether Kim was alive, the spokesman said: "We cannot confirm that for sure."

An envoy had met U.N. Secretary-General Kofi Annan, he said.

"We have been asking for cooperation and received information through various channels," Shin said. "Since that is a very sensitive issue we ask for the media's understanding about not disclosing progress in detail."

A commerce ministry spokeswoman told Reuters all South Koreans working for companies in Iraq were likely to leave the country by early July. Of the 67 non-military South Koreans in Iraq some 22 work for about 10 companies, mostly construction and trading firms, the foreign ministry said.

In editorials published on Tuesday, most newspapers backed Seoul's troop stance, and they also expressed shock and outrage.

"THIS FOOLISHNESS"

"A latent nightmare has turned into reality," said the Korea Times. "The kidnapping of a Korean hostage by Iraqi insurgents, though not totally unexpected, still comes as a great shock."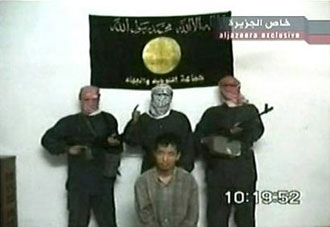 Masked men stand around a South Korean hostage in a videotape aired on Arabic television station Al Jazeera on June 20, 2004. [Reuters]

Newspapers said time was not on Seoul's side.

"The most serious barrier in saving Kim is the urgency," said the Chosun Ilbo, a leading daily newspaper.

Another major newspaper, the Dong-a Ilbo, said the government should "maintain its cool" and follow Japan's lead in seeking the help of the Iraqi religious community to help free hostages.

"It was right for the government not to cave in to the threats and to send troops to Iraq as planned," it said. Seoul announced where it would send the troops last Friday.

The Korea Times and the JoongAng Ilbo newspaper said the government, which has sent a team to the Gulf region to work for Kim's release, needed to act quickly.

"Judging from previous cases in which citizens from countries that have dispatched troops to Iraq were killed, there is a high possibility that the militants will make good on their threat," the JoongAng Ilbo said.

A voice of criticism came from the Hankyoreh newspaper, which unlike most main newspapers in South Korea is left-wing. It said the government decision to try to explain the troops were going to help reconstruct Iraq rather than fight sounded hollow.

"When Korea is becoming the country with the third most troops there, after the United States and Britain, it won't work to argue about how troops are for reconstruction aid."

It urged the government to withdraw its troop decision.

"This foolishness will be a source of national anguish for a long time to come." it said. "Similar trials lie ahead unless it is stopped now."




Today's Top News
Top World News

NPC weighs momentous new bankruptcy law




Asian nations vows to meet oil needs




FM sets up new branch to enhance security




Pro-independence investors not welcome




Japan-born panda cub happy back




US generals to be summoned for Iraq scandal