Evans willing to introduce US firms to Heilongjiang
(China Daily)
Updated: 2004-06-22 00:28
US Secretary of Commerce Donald Evans kicked off a three day visit to China Monday.
In his first visit to Northeast China, Evans arrived in Harbin, capital of Heilongjiang Province.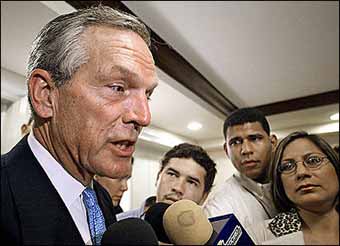 US Commerce Secretary Donald Evans talks to the press. Evans is in China for a week-long visit where he is expected to champion fair trade and seek ways to lower a ballooning trade deficit with the rising Asian nation. [AFP]


During his one-day visit in Harbin, he met with Heilongjiang Governor Zhang Zuoji and other provincial leaders.

Zhang said Heilongjiang is faced with two golden opportunities: China's strategy of revitalizing the old industrial bases and the preferential policies for the grain producing bases.

"We are reforming the ownership of state-owned-enterprises, recruitment of hi-tech professionals and improving the social security system," Zhang added.

Many American companies, like GE and Coca Cola, are working with local companies while the province is striving to find more foreign investors, he said.

"Last year, we only had US$ 200 million in trade volume with the United States," said Song Fatang, Secretary of Heilongjiang Provincial Committee of the Communist Party of China (CPC). "This year, we are going to make a large increase. Our first step is to expand purchases in the US market."

Evans stressed the importance of a sound investment environment and reiterated his concerns on intellectual property protection.

"Protecting intellectual property rights is another area where more progress is urgently needed throughout China," he said. "Enforcing intellectual property laws, and educating local manufacturers about how intellectual property infringement undermines their efforts to become competitive in China and worldwide, is an essential element of economic reform and long-term economic growth."

While affirming Heilongjiang's efforts in protecting intellectual property, Evans added that more work remains to be done in the future.

Evans believed that the Chinese Government has shifted its focus to Northeast China.

"Harbin is the far north's most economically vibrant city. It is the gateway connecting the Far East and inner China," he said.

He also said that he is willing to introduce some hi-tech enterprises in the US to the province to help revitalize the old industrial base.

"We can share our experience in reforming our State-owned Enterprises with Chinese (state owned enterprises)," he said.

Evans spoke to students at the Harbin Institute of Technology and visited the Harbin Electric Machinery Company, one of the oldest factories in Heilongjiang Province. Harbin Electric has a long-term manufacturing agreement with General Electric Power Systems to produce turbine generators.

Evans' visit to China came shortly after the US-China Joint Committee of Trade (JCCT) meeting in Washington.

It is believed that the recent friction in Sino-US trade, China's demand for market economy status and China's efforts to protect intellectual property are the main concerns behind his visit.




Today's Top News
Top China News

Asian nations vows to meet oil needs




FM sets up new branch to handle safety issues




NPC weighs momentous new bankruptcy law




Japan-born panda cub happy back in homeland




Working group gathers to prepare for 6-party talks




Aussies put back purloined Sino dinosaur eggs