Temple fire a warning call
By Wang Zhenghua (China Daily)
Updated: 2004-06-22 00:22
A blaze at a 700-year-old Buddhist temple last week was a warning, say experts.
"The accident sounded a alarm for cultural relics preservation," Ji Xiaoping, a relics expert told the Beijing Times.
The Huguo Temple in Beijing's Xicheng District was partially burnt down by a fire on Sunday. The temple was built during the Yuan Dynasty (1279-1368). It is in the city's protected list.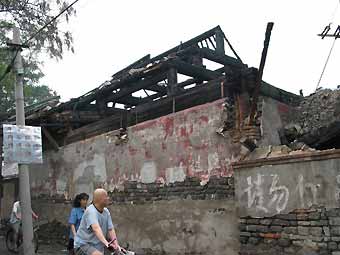 Part of the 700-year-old Huguo Temple was destroyed by fire on Sunday. The fire did not result in any casualties. The temple, in Beijing's Xicheng District, was built during the Ming Dynasty (1279-1368). [newsphoto]


The blaze may have been caused by a shortcut in a power transformer in its west annexed palace.

Thanks to a timely evacuation, nobody was hurt.

As many as 30 fire engines rushed to the site of the 3 am fire, only to discover the palace, surrounded by residential houses, was difficult of access.

A firefighter told the Beijing Evening News that the wooden temple was grossly inflammable and the fire quickly spread.

He said it was difficult to put out the fire because there were not enough fire plugs.Two narrow lanes leading up to the palace could merely fit two or three people walking abreast.

The blaze was put out only an hour and a half later, when the roof's southern part had collapsed.

One neighbouring house was destroyed by the collapsed rafters while three others were inundated by the water sprayed to the fire.

The accident also caused a temporary power blackout in the area.

According to residents, the local subdistrict office has contracted the west annexed palace to different private companies since 1970s.

When the fire broke out, the palace was being used as a small clothing company run by a couple.

The migrant workers employed there slept and worked in the palace, said residents.

A female official with Xicheng District Government told China Daily the annexed palace was not on the city's protected list.

But Ji said it still deserved preservation due to its long history.

"Like the Huguo Temple, many relics are vanishing among residential buildings," said Ji, "and these newly built houses are against the ancient styles."

"Measures should be taken," he said, "to restore relics' original styles and alleviate the destruction and erosion brought by modern houses."




Today's Top News
Top China News

Asian nations vows to meet oil needs




FM sets up new branch to enhance security




NPC weighs momentous new bankruptcy law




Japan-born panda cub happy back




Working group gathers for 6-party talks




Aussies restore purloined Sino dinosaur eggs