US alleges furniture dumping, slaps extra duties
By Dai Yan (China Daily)
Updated: 2004-06-21 07:32
The nation's market economy status is the Achilles' heel once again for Chinese furniture manufacturers who are facing another round of dumping charge from the United States.
Denying Chinese-provided statistics, US officials said on Friday they would impose preliminary tariffs of as much as 198 per cent on some imported Chinese wooden bedroom furniture.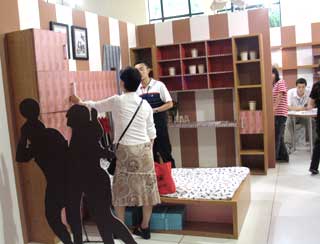 Customers check bedroom furnitures in a Shanghai furniture market June 19, 2004. The US announced anti-dumping duties on imported Chinese furniture. [newsphoto]

As much as US$1.2 billion is involved, the largest amount at stake against Chinese companies. It follows a US decision earlier this year to impose tariffs on Chinese television imports.

Seven companies that represent about 40 per cent of the sales of Chinese bedroom furniture to the US will be hit with tariffs ranging from 4.9 per cent to 24 per cent.

Another 82 companies that responded directly to US enquiries about their pricing practices will face a duty of 10.9 per cent.

And sales of others - mostly small furniture makers - will be blocked by a prohibitive tariff of 198 per cent.

The anti-dumping petition was filed last October. A group of 27 US companies want duties that range from 158 per cent to 441 per cent to offset what they allege is dumping by 135 Chinese competitors.

A final decision is expected in December and preliminary tariffs will be collected beginning next week.

Cao Yingchao, an official from the China Furniture Association, denied the dumping charges, saying they will try for a fairer ruling.

But market economy status is a bottleneck for Chinese manufacturers suffering from dumping charges, Cao admitted, saying additional government efforts on the issue are needed.

The US Government does not take Chinese costs as proof when calculating dumping rates because it views China as a non-market economy. They apply statistics from other countries where costs are higher, which easily leads to conclusions of dumping.

The problem of market economy status has been an important issue between China and the United States. Donald Evans, US secretary of commerce, who is set to make another visit to China from June 19 to 24, will discuss the issue with Chinese officials.

China is currently facing more than twice as many US anti-dumping investigations as any other country, and has had tariffs imposed in 17 different cases.

Liu Shande, a manager from Guangdong-based Jixiang Wood Products Co, said the firm exports because its products can sell at higher prices than here at home.

The average profit for exports is as much as 30 per cent, he said.

He said the US manufacturing industry will not receive any benefit from the dumping charges.

"Even with the high duties imposed, no jobs will be created for the US industry," he said.

Orders will simply shift from China to other countries like Indonesia, Malaysia, the Philippines and Viet Nam, he added.

However, Liu said many Chinese jobs will be lost because of what he called an "unfair decision."

A coalition of more than 30 furniture manufacturers and retailers who import from China, including Furniture Brands International Inc, JC Penney and Crate & Barrel, have protested the campaign to impose anti-dumping duties, saying retail jobs could be lost.

Several furniture companies have warned that logistics and quality problems could emerge if sourcing shifts abruptly to China's neighbours with less exporting experience.




Today's Top News
Top China News

US alleges furniture dumping, slaps extra duties




'Unique' China defies world's predictions




New NPC body to address law conflicts




Consortium model lures private investors




Beijing ancient temple destroyed in fire




52 firms shut down for river pollution