President praises Sino-Singaporean ties
(Xinhua)
Updated: 2004-06-20 10:22
Chinese President Hu Jintao said in Beijing Saturday bilateral relations between China and Singapore had seen remarkable growth since the two countries established diplomatic relations.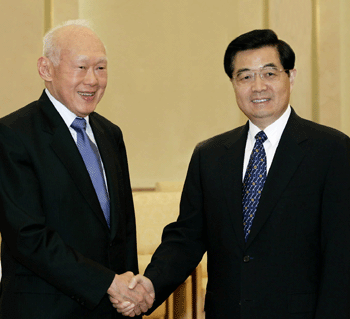 Chinese President Hu Jintao (R) meets with visiting Singaporean Senior Minister of the Prime Minister's Office Lee Kuan Yew at the Great Hall of the People in Beijing, June 19, 2004. [Xinhua]


Hu made the remark during his meeting with Lee Kuan Yew, senior minister of the Singaporean Prime Minister's Office, in the Great Hall of the People in Beijing Saturday morning.

Hu spoke highly of Sino-Singaporean relations and the important contributions that Lee made to the development of bilateral relations.

Hu said the leaders of the two countries have kept frequent contact, thus deepening political mutual trust between the two sides.

Hu said the two countries have achieved rich results in such cooperative areas as economy, trade, science, technology, education and personnel training, adding that exchanges between various departments of the two sides have been growing closer at all levels.

Hu said the two countries have maintained sound communication and coordination in international and regional organizations.

Hu appreciates Singapore for its adherence to the one-China policy, its understanding and support to China's stance on the Taiwan issue and its leadership in recognizing the full market economy status of China among Asian countries.

Hu expressed the wish that the two sides will apply the successful experience of the Sino-Singaporean industrial park to new areas of cooperation. He expected that the two countries will continue to achieve more results of cooperation and lift the mutually beneficial and friendly relationship of cooperation to a higher level.

Lee thanked Hu for meeting him in Beijing. Lee agreed with Hu'spositive comment on bilateral relations. He said Singapore pays close attention to the development of China and holds confidence in stable and sustainable development of the country.

Lee said he had noticed new changes in China every time he visited the country. He said this time he gained a deep understanding of the new ideas that Chinese leaders have on national development.

Lee said Singapore is ready to strengthen cooperation with China in all areas and continue to actively participate in the process of modernization of China. He said this is of good value and significance to Singapore.

Hu and Lee also exchanged views on the current situation of China's economy and other issues.




Today's Top News
Top China News

China, US reach deal to expand aviation services




Energy still bottlenecks Chinese economy




US to slap tariffs on Chinese furniture




President Hu ends 'fruitful' 4-nation tour




US missiles kill 16 Fallujah residents




Carmaker recalls Mazda6 sedans