US to slap tariffs on Chinese furniture
(Agencies)
Updated: 2004-06-20 09:16
The U.S. Department of Commerce on Friday imposed preliminary anti-dumping duties ranging to nearly 200 percent on $1.2 billion of wooden bedroom furniture imported from China.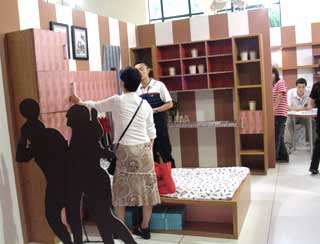 Customers check bedroom furnitures in a Shanghai furniture market June 19, 2004. The US announced anti-dumping duties on imported Chinese furniture. [newsphoto]

The anti-dumping case is the largest yet brought by U.S. manufacturers against their Chinese competitors, and could lead to higher prices on wooden dressers, headboards and other staples of the American bedroom.

The Bush administration's action follows charges by Democratic presidential candidate John Kerry that it has not aggressively enforced U.S. trade laws to keep jobs from moving overseas.

In the furniture case, a coalition of U.S. furniture makers and labor unions had asked for duties ranging up to 441 percent to offset alleged "dumping" by their Chinese rivals.

"We preliminarily find that producers/exporters have sold wooden bedroom furniture from China in the U.S. market at less than fair value, with margins ranging from 4.9 percent to 198.08 percent," the Commerce Department said in a statement.

For seven companies that account for roughly 40 percent of all wooden bedroom furniture shipments from China to the United States, the Commerce Department set duties ranging up to 24.34 percent. Another 82 companies which showed that their exporting was not controlled by the government were hit with a duty of 10.92 percent.

All other Chinese furniture producers or exporters face a new duty of 198.08 percent, Commerce said.

US statistics indicate that U.S. imports of Chinese wooden bedroom furniture have surged from $359 million 2000 to nearly $1.2 billion last year. By some analysts' estimates, China produces at least 40 percent of all furniture sold in the United States.

With American consumers favoring the low-priced, relatively high-quality Chinese goods, some U.S. furniture makers have taken a hit. Woodworking factories lost 35,000 jobs, or nearly one-third of the industry since 2000, according to government labor statistics. Meanwhile, American furniture makers have had to slash prices to compete with their Asian counterparts.

The anti-dumping issue has split the furniture industry, pitting some manufacturers in favor of duties against import-heavy retailers.

A coalition of more than 30 furniture manufacturers and retailers who import from China, including Furniture Brands International Inc, J.C. Penney Co. Inc. and Crate & Barrel, have protested the campaign to impose anti-dumping duties.

Several furniture companies, including Haverty Cos. Inc. have warned that high duties placed on China would only force a shift in sourcing to other Asian countries such as Indonesia and Vietnam.

Analysts and furniture executives worry that logistic and quality problems could emerge if sourcing shifts abruptly to neighbors of China with less exporting experience.

China has complained of a growing tide of U.S. anti-dumping actions against its exports. Earlier this week it hit Corning Inc. and other U.S. manufacturers of fiber optic cable with its own anti-dumping duties.




Today's Top News
Top China News

China, US reach deal to expand aviation services




Energy still bottlenecks Chinese economy




US to slap tariffs on Chinese furniture




President Hu ends 'fruitful' 4-nation tour




US missiles kill 16 Fallujah residents




Carmaker recalls Mazda6 sedans