Invading Japanese troops discarded or buried at least 2 million chemical weapons in China in the 1940s when they retreated, according to Chinese experts.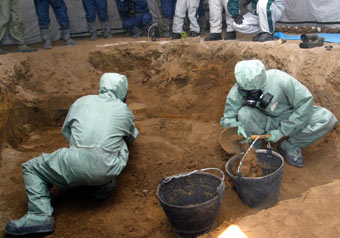 Chinese experts work at an excavation site where up to 500 gas bombs have been detected underground Friday, june 18, 2004 in Qiqihar, northeast China's Heilongjiang Province. [newsphoto]


The weapons -- some still lethal or toxic after decades have passed -- remain a threat to Chinese across the country. Leakage accidents involving injuries or deaths are reported now and then.

An August 4 incident that killed one man and injured 43 residents in Qiqihar of Northeast China's Heilongjiang Province last year. More than 50 bombs, including chemical weapons, were found last month in a village near the same city.

"The facts have proved again that we have come to a situation where no more delays can be tolerated," said Ge Guangbiao, director of the Japanese-abandoned chemical weapons disposal office under the Chinese Foreign Ministry.

China and Japan signed a Chemical Weapons Convention in 1997 and a memorandum two years later. Japan promised to finish the work of disposing of all chemical weapons it abandoned in China by 2007.

But the Chinese side has been complaining about the Japanese Government's insincerity in not finishing the work in time.

"We have to say they are too slow in disposing of the weapons," said Ge.

So far, only 36,000 chemical weapons have been retrieved and put under temporary safekeeping, according to Japan's office for the disposal of abandoned chemical weapons.

This is a small part of all Japanese-abandoned weapons, which even Japan estimates at around 700,000.

Chinese experts are calling on the Japanese Government to reveal burial sites of all its abandoned weapons to avoid further harm to Chinese.

"But the Japanese Government has never told us the exact locations of its weapons, which makes it extremely difficult for us to find them," said Bu Qing, vice-president of the provincial academy of social sciences in Heilongjiang.

The Foreign Ministry on Friday opened the heavily guarded excavation site in Touzhan Village of Ang'angxi District to a group of journalists.

Wearing protective gears, the journalists were shown to the dozen tents in which chemical weapons personnel removed, transferred, inspected, packed and stored the weapons.

The weapons will be moved to a larger temporary storage house in suburban Qiqihar, waiting for future destruction.

Although some 50 bombs were dug up last month by a villager and reburied soon after, Chinese weapon experts said a survey showed at least 500 bombs were lying under the earth.

About 25 Japanese experts and 150 Chinese military personnel started to excavate the bombs on Thursday, but they did not dig up any weapons.

Eleven chemical bombs were excavated on Friday.

But Japanese experts confirmed later that only 10 chemical weapons were found on Friday.

The work is expected to wrap up in 10 days.

Disposal plant planned

Japan is planning to build a large plant in East China's Dunhua to retrieve chemical weapons which were believed to account for 90 per cent of all the Japanese-abandoned chemical weapons during World War II.

"The initial design has been finished, and the project will soon begin," Aoyama Akihiko, an official with Japan's special office for abandoned chemical weapon disposal, told China Daily.

He said the Japanese Government expects to finish the work of excavating and retrieving the chemical weapons in Harba Hill in Dunhua in two or three years.

The destruction of the weapons will be carried out after that.

According to historical records and the result of survey, Japan estimates that there are about 670,000 chemical weapons in Harba, accounting to 90 per cent of all Japanese abandoned chemical weapons in China.

"We hope to finish the disposal as soon as possible in order to avoid further tragedies," said Akihiko.




Today's Top News
Top China News

Power plants hungry for coal




Japan slow to dispose bombs




Taiwan's military build-up sabotaging peace




Watchdog: Textiles imports low quality




Real estate sector cools as brakes work




Emissions trade aids protection of nature