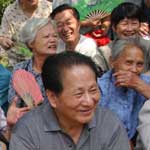 It was almost 9 am on Saturday. Yuexiu Park in downtown Guangzhou, the capital city of South China's Guangdong Province was already bathed in sunshine.
Huang Linguo, 65, and his 7-year-old grandson, arrived at the park where people of his age, with caps and bags, were slowly gathering in front of a hill, breaking the morning quiet.
Ten minutes later Huang heard a song sung by a woman of his age:
"My elderly brother, you are so young and energetic that you come to the hill."
Huang responded using the same melody:
"My younger sister, I am so happy to meet you here today, because we were once in the same family."
Other elderly men and women joined in, throwing out their chests and holding their heads high.
They were mostly Hakkas. They were singing Hakka hill songs.
Huang and the others sang dozens of songs, with short intervals in between.
Huang is obviously very good at generating a fun atmosphere among the singers with his little quips between songs.
"Come on, smile and start singing and dancing," he said. "It will make you feel like you're young Hakkas again."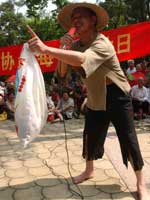 After a couple of hours, Huang announced that the singing party was over, but people were reluctant to leave.
It was already well past noon when the park finally quieted down. But Huang promised that they would be back on the 12th of next month to share the excitement and happiness of singing Hakka hill songs.
"We have made a promise to come to this hill in the park on the 12th of every month because we enjoy each other's company, but most importantly, because we like Hakka hill songs and we miss our hometowns," said Huang.
"For us Hakkas, our happiest time is celebrating what we have achieved in our work, by singing the songs of our hometowns," said Huang.
"When I miss my hometown I usually sing our songs," added Huang.
A Hakka, Huang came from Meizhou, a city in eastern Guangdong Province, where hundreds of thousands of Hakka people live today.
But actually he knows little about his hometown since he, together with his father, were forced to leave and settle in Guangzhou to make a living when he was very young, according to Huang.
But he doesn't spend much time thinking about the past, as for many Hakkas memories of the past are not clear. But they all have a common sense of the difficult days gone by.
Historical resources in the Guangdong Department of Culture show that the Hakkas are a unique group of Han Chinese who originally lived in the Yellow River area.
Due to the pressure resulting from the influx of other ethnic groups from the northwest, north and northeast of China, these original settlers gradually migrated southward and settled in Jiangxi, Fujian and Guangdong provinces. Some sailed across the Taiwan Straits to Taiwan Province.
As a result, they were called Hakka, or kejia in standard Chinese (meaning "guest families") by the local people in the areas where they settled.
One of the earliest migrant groups in China, the Hakka people intermarried with other ethnic groups and adopted their cultures over their long history of movement going back more than 2,000 years.
As a late comer to places already occupied by other groups, Hakkas usually had to struggle and survive on the poorest land. Thus Hakka people are well known for their perseverance even under the most adverse conditions.
But they are noted for many other things as well. Through their 2,200 years of history they have preserved certain cultural characteristics as seen in their customs, food and spoken language.
Of all the peoples of China, Hakkas are among the most steadfast in keeping the traditions.
Hakka hill songs, which are usually sung by a man and a woman, are one of the most famous aspects of Hakka culture.
There seem to be relatively few melodies. The same tunes are used for a number of individual lyrics of varying subject matter. These may be love ballads, question-and-answer riddles, tragedies endured by their people in times gone by, and observations about live.
Hou Zhou, vice-director of the Cultural Office of Hongqiao Street, said that the Hakkas have been gathering in Yuexiu Park to enjoy their songs ever since the 1960s.
Hence the hill in the park has acquired a nickname: "Hakka Song Hill."
The Hakkas living around Hongqiao Street organized the Hakka Hill Songs Association in 1996, which has attracted Hakka hill song lovers from across the city, Hou said.
Zhang Bo, 70, is not a Hakka, but he gradually developed a love for Hakka hill songs when he came to the park and met Hakka people 10 years ago.
"Although I am not a Hakka, the songs remind me of the old days when I left home," Zhang said.
Zhang, a resident of Guangzhou, left his home to work as a sailor when he was only 16.
"My sailing experience at an early age has given me something in common with Hakka people, and the songs make me feel even closer to them," he said.
According to Hou, thousands of Hakka people, like Huang, left their homes to go to Guangzhou in the early 1960s, with the hope of finding a better life. And most of them settled around Hongqiao Street.
Hou added that the government of Yuexiu District of Guangzhou decided early in April to organize a fund for Hakka hill songs development, in an effort to enhance the cultural development of Hakka in the city.
"The songs help bring more and more Hakka people together because they share a deep love for Hakka culture and tradition," Hou said.