Al-Qaeda claims US death in Saudi city
(Agencies)
Updated: 2004-06-13 08:50
Suspected militants killed an American in the Saudi capital on Saturday, shooting him in the back as he parked in his home garage, and the U.S. Embassy said it was searching for an American who was missing.
A purported al-Qaeda statement posted on an Islamic Web site late Saturday claimed the terror group had killed one American and kidnapped another in Riyadh. It threatened to treat the captive as U.S. troops treated Iraqi prisoners.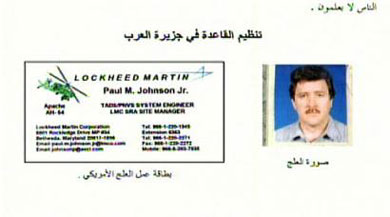 A passport-size photo of a brown haired man and a Lockheed Martin business card bearing the name Paul M. Johnson Jr., are shown on an Islamic Web site in this framegrab made from APTN video. The photo and business card were posted late Saturday June 12, 2004, on the Islamic Web site along with a purported al-Qaeda statement which claimed the terror group had kidnapped one American man in Riyadh, Saudi Arabia, and killed another American. [AP]

The slaying and apparent abduction were the latest attacks in a campaign of anti-Western violence in the kingdom, believed by many to be aimed at driving out foreigners as a way to sabotage the vital Saudi oil sector.

The U.S. Embassy identified the dead man as Kenneth Scroggs ! the third Westerner slain in the kingdom in a week. It did not identify the missing American but said it was working with Saudi officials to find him.

The al-Qaeda statement showed a passport-size photo of a brown-haired man and a Lockheed Martin business card bearing the name Paul M. Johnson. It said he was born in 1955.

The mobile phone listed on the card was switched off, and a call to a second phone number was picked up by a voicemail message by a deep-voiced man who identified himself as Paul Johnson.

The statement said the terror group would deal with Johnson just as "the Americans dealt with our brothers in Guantanamo and Abu Ghraib" ! a reference to sexual and other alleged abuses of Iraqi and Muslim prisoners by U.S. troops.

The statement also said Johnson is one of four experts in Saudi Arabia working on developing Apache helicopter systems and that the American killed worked in the same industry. It did not identify the slain American but said he was killed at his house.

"Everybody knows that these helicopters are used by the Americans, their Zionist allies and the apostates to kill Muslims, terrorizing them and displacing them in Palestine, Afghanistan and Iraq," said the statement.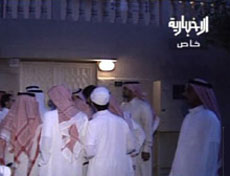 Video footage shows a crowd gathering around the site of the shooting Saturday June 12, 2004. [Reuters]

It said al-Qaeda would release a videotape later to show Johnson's confessions and list its demands.

A Saudi security source told The Associated Press that Scroggs worked for a company called Advanced Electronics ! the same company listed on Johnson's business card.

In Scroggs' neighborhood, the Malaz district of Riyadh, witnesses told AP that three militants first shot him in the back as he pulled his car into the garage. The militants then moved closer and fired more shots.

The statement was signed by al-Qaeda in the Arabian Peninsula, the same group that claimed responsibility for a shooting and hostage-taking spree in the eastern Saudi city of Khobar on May 29-30. The attack at the hub of the Saudi oil industry killed 22 people, mostly foreign workers.

An estimated 8.8 million foreigners work among 17 million Saudis in the kingdom, mostly in the oil sector, banking and other high-level businesses.

Militant attacks against Westerners, government targets and economic interests in the Saudi kingdom have surged in the past two months, despite a high-profile campaign against terrorists the government began after suicide bombings last year.

Crown Prince Abdullah, shown on Saudi television Saturday greeting visitors at a Riyadh palace, urged his guests to "inform me personally of anyone who has deviated from religion, attacked (it) or is an extremist."

"I pledge, God willing, ... that they (militants) will not slip away from the hand of justice," Abdullah said.

U.S. Ambassador James C. Oberwetter, in a statement reacting to Saturday's killing and other recent terrorist attacks, expressed his condolences to victim's families.

"Those Americans who choose to remain here should exercise the utmost caution as they go about their daily life," Oberwetter said.

"I applaud Saudi Arabia's determination to bring an end to terrorism in the kingdom," he added.

Speaking in London, Sheik Saleh bin Abdulaziz Al Sheik, the Saudi minister for Islamic affairs, said Saturday that despite the recent surge of attacks, terrorism in his country had not reached crisis proportions.

"If you look back through the efforts of the Saudi government in tackling terrorism, they have destroyed half of the terrorist force," Al Sheik told journalists at the Saudi embassy in London.

"Our assessment of the situation is that it is controllable, but because there are sleeping cells and because the terrorists live in a crowded area the Saudi forces do not want to hurt any of the local people," he said.

Terror experts have noted that the militants are using several tactics ! including shootings and ambushes where the gunmen do not die ! rather than limiting themselves to suicide bombings or swift attacks under the cover of darkness.

They are also trying to avoid killing Muslims. The death of several Muslims and Arabs in a November compound attack in Riyadh horrified many Muslims ! something that could seriously affect recruiting efforts.

Experts say the terrorists want to create "a psychosis of terror" so foreigners will leave the country, the oil and defense sectors would suffer and the system would weaken.

On Tuesday, an American who worked for a U.S. defense contractor was shot and killed. Last Sunday, an Irish cameraman was killed and a British TV correspondent was critically wounded when fired on while filming in a neighborhood that is home to many Islamic militants.

The United States has urged all its citizens to leave the kingdom, and the British Foreign Office has advised Britons against all nonessential travel to Saudi Arabia.
Today's Top News
Top World News

Chinese emergency group arrives in Kabul




Suppressing information fuels speculation




Foreign trade scores surplus




Annan: World has become 'more unequal'




Iran wants recognition as nuclear nation




Al-Qaeda claims US death in Saudi city