Chinese emergency group arrives in Kabul
(Xinhua)
Updated: 2004-06-13 08:35
A 14-member emergency group led by China Railway Construction Corporation (CRCC) leaders arrived in Kabul Saturday to deal with the affairs concerning the bloody attack on the corporation's workers in northern Afghanistan.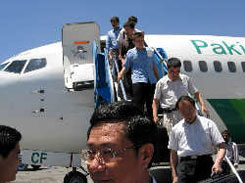 A delegation of 14 members of the Chinese Railway Construction Corporation arrived in Kabul June 12, 2004 to deal with the aftermath of the terrorist attack June 10 leaving 11 Chinese construction workers dead and five others wounded in northern Afghanistan.[Xinhua]

CRCC Deputy President Li Guorui told Xinhua that his company will not retreat or bow to terrorists. The construction work will go on but the security for the road construction workers must be beefed up by all means to avoid recurrence of such incident in thefuture, he stressed.

Li said the emergency group will focus on the treatment of the victims and the safety of the remaining workers.

The bodies of 11 dead workers and the injured will be transported to China as soon as possible, Chinese ambassador Sun Yuxi disclosed.

About 20 unidentified gunmen sprayed bullets on some 100 sleeping Chinese workers in a compound about 40 kilometers south of Kunduz in the wee hours on Thursday, killing 11 Chinese workers and one Afghan guard and injuring several others.

The Afghan government strongly condemned the "terrorist act" and blamed the ousted Taliban for the carnage. However, a Taliban spokesman said Taliban was not responsible for the attack.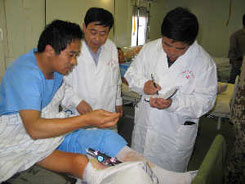 Two doctors of the Chinese Railway Construction Corporation visit a wounded Chinese worker receiving treatment at a German hospital in Kabul, Afghanistan, June 12, 2004. [Xinhua]

Bodies of 11 slain Chinese flown to Kabul
The bodies of 11 Chinese construction workers, who were slain by gunmen in a terrorist attack in northern Afghanistan Thursday, arrived in the Afghan capital Friday.
The four wounded Chinese workers are also on their way to Kabul,where they will receive medical treatment in a German hospital.
So far, it remains unclear who were behind the deadly attack in Kunduz province.
Meanwhile, Afghan Army Gen. Mohammad Daud told Chinese Ambassador to Afghanistan Sun Yuxi Friday that two suspects involved in the attack have been arrested.
The general also promised that other suspects will be arrested soon, according to the Chinese Embassy.
Today's Top News
Top China News

China, France sign billions of Airbus, satellite deals




Mystery surrounds attack on road workers




Suppressing information fuels speculation




Moody's: China banking reform deepens




Annan: World has become 'more unequal'




Iran wants recognition as nuclear nation