Reagan's grand funeral marked with protests
(Agencies)
Updated: 2004-06-12 15:04
As Ronald Reagan's body was carried back to California for burial, Central American activists staged a protest Friday to remind the world that Reagan's foreign policies were linked to thousands of deaths in El Salvador, Guatemala, Honduras and Nicaragua.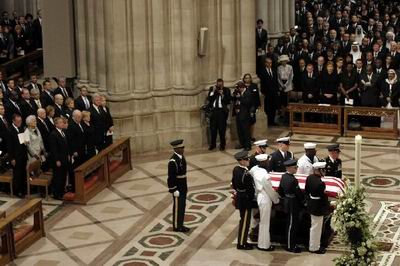 An honor guard brings the remains of former US President Ronald Reagan into the National Cathedral for his funeral yesterday. [AFP]

About 100 people, hoisting plywood crosses painted with the names of people thought to have lost their lives to military-backed death squads during the early 1980s, marched eight blocks through the city's heavily Hispanic Mission District in an angry answer to the accolades that accompanied the end of the 40th president's life.

"This man is a criminal. This man is a murderer and doesn't deserve any respect," said Zenaida Velasquez Rodriguez, a Honduran human rights activist whose brother, a father of three, was allegedly kidnapped by national security forces in 1981 and hasn't been seen since. "I don't forgive Reagan, and I hope he is going to hell."

Participants specifically faulted Reagan for supporting, arming and funding anti-communist dictators, military leaders or insurgents who used torture, kidnappings and murder to silence critics, including academics, students and union members.

The procession drew only a few sarcastic remarks in a commercial area filled with Central American bodegas and restaurants. Several shopkeepers nodded appreciatively as a banner passed by reading, in Spanish: "200,000 Central Americans killed, tortured and missing, and Reagan is responsible."

Participants said they saw nothing inappropriate about criticizing the late president on the day of his funeral when they believed Reagan's record was being distorted amid the outpouring of posthumous honors.

"I have no problem criticizing the dead, especially when hundreds of thousands of Central Americans died without even a decent burial," said Sheila Tully, a San Francisco State University anthropologist who spent several years as a health care worker in Nicaragua during the mid-1980s. "It's the height of US hypocrisy and racism that one man's life, Ronald Reagan's, is hyped as@valuable than tens of thousands of Guatemalans."

Gay rights groups, meanwhile, held their own official day of mourning _ for AIDS patients whose deaths they blame on Reagan's unwillingness to confront the disease during the first years of the epidemic.

Some organizations, including the National Gay and Lesbian Task Force in Washington, D.C. and Equality California, a statewide lobbying group, shut their offices in remembrance of those who died of AIDS. At the Los Angeles Gay and Lesbian Center and the San Francisco Lesbian Gay Bisexual Transgender Community Center, visitors were encouraged to write messages to deceased lovers and friends and to light candles in their names.

In the lobby of the San Francisco center, a sign reading "His failure, their deaths, our mourning" stood in the candlelit lobby Friday. Thom Lynch, the center's executive director, said he struggled to devise a means for the community to express its lingering anger over Reagan's legacy while still being "tasteful."

"This man died of a disease that isn't being researched and treated for the exact same reasons that Reagan avoided dealing with AIDS, and that's because of right-wing politics,'' Lynch said. ``There is a terrible irony there."

A college disc jockey in Alaska who was initially fired after devoting a radio show to celebrating Regan's death will be reassigned to another job until he can respond to complaints about his actions, officials said Friday.

Scott Hornyak, a 28-year-old undergraduate at the University of Alaska Fairbanks, was told Friday that he was fired from his paid position as business manager at KSUA-FM, a student-run station.

A university spokeswoman later said the firing was premature and the decision was rescinded until Hornyak had a chance to respond to complaints about the Sunday show.

Hornyak said Friday night he will appeal any reassignment or termination.

"They're firing me because of what I said, and the public's reaction to what I said," said Hornyak, who goes by the call name "Spider Bui."

No tape of the show was available. But according to Hornyak, he berated Reagan, who died June 5, for his foreign policy in Latin America, Iraq and Afghanistan, and for his response to the AIDS epidemic.

Hornyak said the show was "a celebration that Ronald Reagan was dead, was finally dead," and that he told listeners he wanted to "walk over the newly laid dirt" on Reagan's grave.
Today's Top News
Top World News

Foreign trade scores surplus, consumers prices rise




China not to give in to terrorism: Hu




Kabul seizes 2 for killing 11 Chinese




WWII comfort station to be protected as relics




'Made-in-China' subway fulfills Iranian dream




China-Hungarian links elevated