China not to give in to terrorism: Hu
(Xinhua)
Updated: 2004-06-12 10:49
Chinese President Hu Jintao said Friday that China will not give in to terrorism simply because its citizens were attacked, and will continue to play its due part in the fight against terrorism.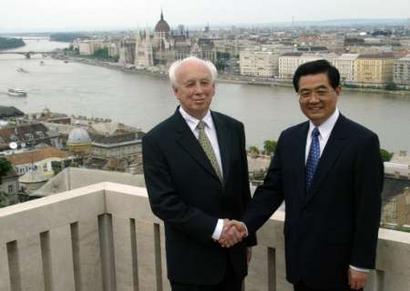 Hungarian President Ferenc Madl (L) poses with his Chinese counterpart Hu Jintao in Budapest, June 10, 2004. Hu is in Hungary for a three-day official visit. In the background the Parliament building can be seen on the Danube bank. [Reuters]

Hu, who is on a state visit to Hungary, said during a meeting with local Chinese residents that China strongly condemns the terrorist attacks against its citizens in Afghanistan on Thursday in which 11 Chinese nationals were killed.

"China has always been firmly opposed to terrorism and strongly called for international cooperation in the fight against terrorism," Hu said. "We will not give up our responsibility in the fight against terrorism just because our citizens were attacked."

The Chinese president said China has also decided to take every possible measure to ensure the safety of Chinese nationals living outside the country.

On Thursday morning, a group of about 20 armed men attacked the Chinese workers compound in Jelogir area, 36 km away of Kunduz city in Afghanistan, killing 11 persons and injuring four others.

"It was a ruthless terrorist attack according to preliminary investigations," Hu said.

Also on Friday, Hu met with President of the Hungarian National Assembly Szili Katalin and Prime Minister Medgyessy Peter.

Hu told Medgyessy that China does not seek a trade surplus and wishes to address the trade imbalance between the two countries through trade promotion.

Earlier, the Chinese president and his Hungarian counterpart Madl Frenc agreed to put economic ties and trade as the priority in the development of their bilateral relations.

Hu told a group of Hungarian businessmen Friday morning at a special meeting proposed by Hu himself that China will work together with the Hungarian side to secure a balanced development of the two-way trade.

"We are not seeking a long-term trade surplus in favor of China. We wish to gradually narrow the gap through the development of bilateral economic ties and trade," Hu said.

The Chinese president promised to encourage Chinese firms to import more from Hungary, and advised Hungarian companies to find better ways to explore the Chinese market.

The two-way trade between China and Hungary reached 2.6 billion US dollars last year, up 66 percent from a year ago. Hungary has been China's largest trading partner among central and eastern European countries for three consecutive years.

Although China is the 5th largest trading partner of Hungary, China-Hungary trade volume was less than 0.3 percent of China's total foreign trade volume of 851.2 billion US dollars.

"That figure cannot match with the level of friendship and the high economic growth rate of our two countries," Hu said. "We should find out better ways and work more vigorously to promote our economic ties and trade."

The Chinese president made a three-point proposal on boosting economic ties and trade between the two countries. They included increasing direct contacts between businessmen of the two sides, starting cooperation in the area of hi-tech sector and increasing mutual investment.

Hu arrived in Budapest Thursday morning, the first state visit by a Chinese head of state in 10 years. It is also the first visit to Hungary by a Chinese leader after Hungary became a member of the European Union in May.

China and Hungary signed six cooperation documents Thursday to strengthen their economic ties and to boost bilateral trade.

The China Hainan Airlines and the Hungary airlines signed an agreement that will open direct flights between Beijing and Budapest three times a week from August 2 this year.

"China welcomes Hungarian firms to participate in China's development of its western areas and the rejuvenation of the old industrial belts," Hu told Madl Thursday.

"Hungarian companies are also welcome in the construction of projects for the Beijing 2008 Olympiad and the World Expo' 2010 in Shanghai."

Hungary is the second leg of Hu's four-nation tour following Poland. He will also visit Romania and Uzbekistan before attending a summit meeting of the Shanghai Cooperation Organization, slated to begin in the Uzbek capital of Tashkent on June 17.

Chinese FM meets with Afghan president

Chinese Foreign Minister Li Zhaoxing said in Washington Friday that the Chinese government believes the Afghan government will thoroughly investigate the terrorist attack on Chinese workers in Afghanistan and bring those responsible to justice.

Li, who was there as the special envoy of Chinese President Hu Jintao to attend the funeral of the late US President Ronald Reagan, made the remarks at a meeting with Afghan President Hamid Karzai.

The Chinese government strongly condemned the terrorist attack, which killed more than 10 Chinese workers early Thursday, and believed the Afghan government would take every necessary measure to protect the life and property of the Chinese institutions and personnel in Afghanistan, Li said.

Karzai asked Li to tell the Chinese president that he, on half of the Afghan government, condemned the terrorist attack and expressed deep condolences to the victims and their families. The Afghan government attached importance to the incident, and is taking vigorous actions to pursue the murderers so as to punish them by law, he said.

He said the Chinese people are friends of the Afghan people. The Afghan government and people are grateful that many Chinese workers are constructing roads and bridges in Afghanistan, helping the Afghan people in their pursuit for peace and happiness. The Afghan government and people will take all necessary measures to ensure the safety of the Chinese institutions and personnel in Afghanistan.

UN Secretary-General Kofi Annan, who was in Washington for the funeral, also asked the Chinese foreign minister to convey his condolences to the victims and their families of the terrorist attack. The United Nations will provide assistance in rescuing those wounded and handling matters relating to the incident, he said.
Today's Top News
Top China News

Foreign trade scores surplus, consumers prices rise




China not to give in to terrorism: Hu




Kabul seizes 2 for killing 11 Chinese




WWII comfort station to be protected as relics




'Made-in-China' subway fulfills Iranian dream




China-Hungarian links elevated