Heat wave sweeps northern areas
By Qin Jize (China Daily)
Updated: 2004-06-11 22:53
In the midst of the nation's first long heat wave for the summer, visiting a location in China's north sounds likes the ideal solution -- but just make sure that place is not Beijing.
Sweltering weather prevailed over the country's capital again on Friday with a top of 38 C, even higher than cities further south and inland which are noted for their hot temperatures.
And the local weather bureau has predicted that the hot spell will keep us company over the weekend.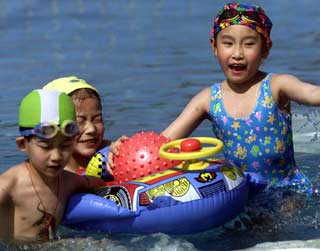 Children play in a pool in Beijing June 11, 2004. Temperatures in the capital shot up to 36 C in a heat wave that will carry on for another couple of days. [newsphoto]
But respite is on the horizon, as the mercury is forecast to drop obviously on Monday. A cold front is due to move onshore on Sunday, increasing cloud cover and pushing cooler air into the region.
There is the chance of showers on Sunday night and the clouds and rain are likely stick around for the remainder of the week.
"The high temperatures have lasted for awhile this year but haven't threatened any record highs for the same period in the past," said Zhou Xiaoping, a meteorologist at the Beijing Meteorological Observatory.
Since Beijing was warned about the four-day long heat wave on Wednesday, the city has been baking as the heat is absorbed by concrete sidewalks, asphalt roads and skyscrapers -- in addition to the heat given off by air conditioners and vehicles.
But even those not in traffic are finding it tough. The situation underground, riding on the Beijing subway with tens of thousands of other commuters, is almost unbearable.
"I feel like I'm melting when waiting on the non-air conditioned platforms and riding in the compartments where the temperature hits around 40 C," said Tian Miao, 25, who uses the subway each day.
But there are others in the city who pay to sweat.
"I feel totally rejuvenated after yoga," said a relaxed Yin, who is in her 20s but did not give a full name.
"I feel refreshed after working out at the gym and actually feel cooler once I'm done."
There are others who prefer to work their way through the warm weather with a beverage. Beer is one of the most popular choices.
A massive amount of bottles have been sold since the hot weather descended on the region.
"It's usual to see a bit of an increase in sales when the hot weather hits, but this really has been phenomenal," said Wang Pei, a waitress at an alfresco restaurant.
Sales of the amber liquid at the restaurant have been up 300 per cent.
Strangely enough, however, a street side ice-cream vendor is not happy with the hot weather at all.
"The ice-cream industry and big stores may welcome this sort of weather but not us," said Xie Baopin, who run a small in Chaoyang District.
"People do not go out as often, they like to stay indoors in air conditioning."
Xie complained that as fewer customers were buying her ice cream, she had to eat her own products to stay cool.
Thankfully, hospitals have not seen an increase in the number of patients with heat-related illnesses.
Today's Top News
Top China News

Foreign trade scores surplus, consumers prices rise




China not to give in to terrorism: Hu




Kabul seizes 2 for killing 11 Chinese




WWII comfort station to be protected as relics




'Made-in-China' subway fulfills Iranian dream




China-Hungarian links elevated