Slain workers identified; 2 suspects nabbed
(Xinhua)
Updated: 2004-06-11 15:07
The bodies of 11 Chinese construction workers, who were slain by gunmen in a terrorist attack in northern Afghanistan Thursday, arrived in the Afghan capital Friday.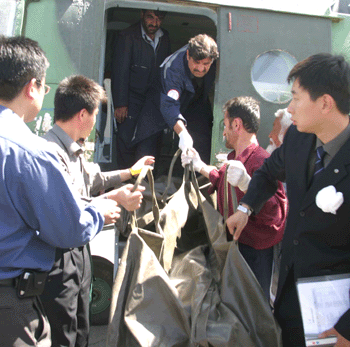 The body of a Chinese worker is removed from a helicopter in Kabul June 11, 2004. [Reuters]


The four wounded Chinese workers are also on their way to Kabul, where they will receive medical treatment in a German hospital.

So far, it remains unclear who were behind the deadly attack in Kunduz province.

Meanwhile, Afghan Army Gen. Mohammad Daud told Chinese Ambassador to Afghanistan Sun Yuxi Friday that two suspects involved in the attack have been arrested.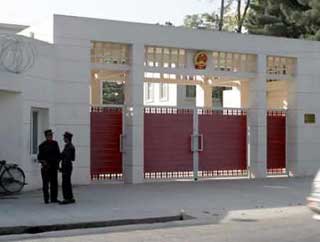 Afghan security stand guard in front of the Chinese embassy in Kabul June 10, 2004. [Reuters]


The general also promised that other suspects will be arrested soon, according to the Chinese Embassy.

But the embassy did not give any words on the identities of the two suspects.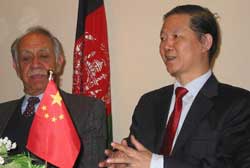 Chinese Ambassador to Afghanistan Sun Yuxi (right) talks with Afghan Public Works Minister Abdullah Ali in Kabul, Afghanistan in this October 23, 2003 file photo. [Xinhua]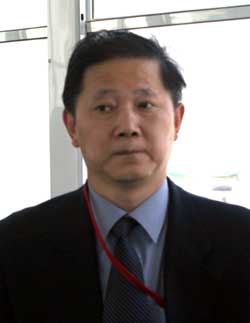 Chinese Ambassador to Afghanistan Sun Yuxi sits on a bus at Kabul airport June 10, 2004. Sun is on his way to Kunduz, where gunmen killed 11 Chinese workers. [Reuters]
Ten Chinese victims from a terrorist attack in Afghanistan Thursday had been identified by the China Railway Shisiju Group Corporation (CRSGC).
The workers, aged from 31 to 56, are from Shangrao City in eastern China's Jiangxi Province and employed in the CRSGC before they died, according to the corporation.
The ten identified victims are, Xu Qitai, 56, Liu Shumei, 49, Cheng Guangren, 46, Zhou Wenwu, 44, Xia Xuexin, 41, Yu Shanguo, 37, Jiang Jiashu, 37, Chen Zhongfu, 36, Xiang Weihou, 35, Zhang Nianchun, 31.
The attack took place at around 01:00 a.m. local time (2030 GMT Wednesday) on a construction site 36 km south of Kunduz when some 20 gunmen opened fire at Chinese workers and security guards.
This is the first major casualties China has encountered in Afghanistan in the past two years and also one of the worst terrorist attacks on foreigners since the former Taliban regime was ousted late in 2001.
China, Afghanistan and the United Nations have condemned the terrorist attack.
Chinese President Hu Jintao, who was in Poland for a state visit on Thursday, strongly condemned the terror attack against Chinese workers and urged the Afghan government and the UN mission in the country to investigate the incident, bring the terrorists to justice, and ensure safety and security of other Chinese citizens in Afghanistan.
The Afghan government condemned the brutal killing, describing it as a cowardly act of terrorism.
Acting Afghan President Mohammed Qasim Fahim, who assumed the role while President Hamid Karzai was visiting the United States, said Thursday he was "deeply distressed" by the killing of Chinese workers and strongly condemned "this cruel act of terror."
Today's Top News
Top China News

China vows more strikes against terrorism




Japan sending chemists to analyze bombs




China's panda population up 40%




Industries cool down growth




Bush: New NATO troops in Iraq not likely




Tens of thousands mourn Reagan in DC