China vows more strikes against terrorism
By Li Jing (China Daily)
Updated: 2004-06-11 00:48
China is strengthening its will against terrorism, following a shocking attack in Afghanistan Thursday that left 11 Chinese railway workers dead and 4 injured.
"We will not surrender to terrorism in any form," Chinese Foreign Ministry spokesman Liu Jianchao told a news briefing in Beijing Thursday. China will continue to participate in the reconstruction process of Afghanistan, he said.
About 20 armed terrorists opened fire on the sleeping workers at a roadway construction site in Kunduz province at about 1:00 am Thursday, said sources from the construction company. Security guards exchanged fire with the gunmen but failed to stop the worst attack on foreigners since the fall of the Taliban regime to happen.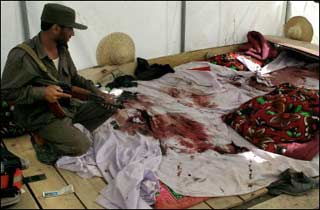 An Afghan police officer inspects the scene where Chinese railway workers were gunned down in their sleep by unknown attackers in Had Bakhshi of northern Afghanistan June 10, 2004. [AFP]
The four injured workers were sent to a hospital in Kunduz province, where medical staff from Germany are also helping with the treatment, Liu said.
Ten of the 11 dead workers, natives of Guangfeng County, Shanghrao Prefecture of East China's Jiangxi Province, arrived at Kunduz only on Tuesday.
All the victims were male and worked for the China Railway Shisiju Group Corporation (CRSGC), a leading construction company engaged in road construction in post-war Afghanistan and its headquarters are based in Jinan, capital of East China's Shandong province.
China is treating the incident as a terrorist attack, Liu said. Adding that various parties, especially Afghanistan, should attach it great importance.
China has been a target and victim of terrorism for a long time, and that's why China supports the campaigns against terrorism in all forms, Liu noted, expressing the hope that the international community will continue effective strikes against terrorism.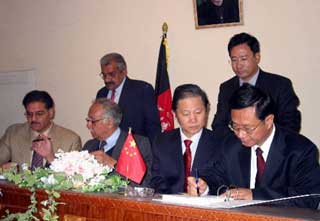 Zhang Haizhou (right), deputy general manager of China Railway Shisiju Group Corporation, signs a road reconstruction contract with Afghan Public Works Minister Abdullah Ali (front Line, 2nd L) in Kabul, Afghanistan in this October 23, 2003 file photo. [Xinhua]
Leaders' concern
Top legislator Wu Bangguo and Premier Wen Jiabao Thursday strongly condemned terrorist activities while sending condolences for the victims and sympathy to the injured.
Wen, while strongly condemning the terrorist attack against Chinese citizens, called on Afghanistan to severely punish the criminals.
A statement issued by the Afghan presidential office Thursday afternoon said: "Acting President of the Islamic Transitional State of Afghanistan Marshal Mohammad Qasim Fahim terms the murdering of Chinese workers as a terrorist, inhumane act and strongly condemns it."
Blaming al-Qaeda's for the attack, Fahim said terror network of al-Qaeda and its supporters were behind the incident to disrupt the ongoing rebuilding process in the country.
"The Acting President is also extending his condolences to Excellencies Chinese President, Chinese Premier and the families of the victims," the statement added.
Vice-Foreign Minister Dai Bingguo, in a phone conversation with Afghan Vice-Foreign Minister Zalmay Aziz, said the Chinese Embassy in Afghanistan will work closely with the Afghan Government and the UN assistance team to help the injured workers and deal with the aftermath of the attack.
China's Ambassador to Afghanistan Sun Yuxi also rushed to the scene.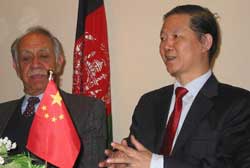 Chinese Ambassador to Afghanistan Sun Yuxi (right) talks with Afghan Public Works Minister Abdullah Ali in Kabul, Afghanistan in this October 23, 2003 file photo. [Xinhua]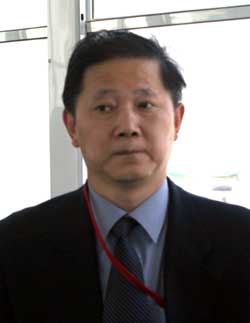 Chinese Ambassador to Afghanistan Sun Yuxi sits on a bus at Kabul airport June 10, 2004. Sun is on his way to Kunduz, where gunmen killed 11 Chinese workers. [Reuters]
Track the murderers
Aziz said the Afghan leaders attached great importance to the incident, and had a search to track down and severely punish the murderers.
So far, no group or individual has claimed responsibility for the latest bloody incident, but the fugitive leaders of the Taliban and their allies have vowed to disrupt any rebuilding activities in the post-Taliban nation that is under the influence of the United States.
Meanwhile, an 11-member work team from the corporation is to set off today to Afghanistan to deal with the incident. Another work team will lend a hand to family members and relatives of the victims in China and to handle follow-up issues.
But company sources noted it was very difficult to communicate with the victims' families because many live in the remote rural areas.
Hundreds of Chinese construction workers are currently working in Afghanistan and 123 Chinese workers of CRSGC are working on the Kunduz project.
Following the bloody attacks in Kunduz, ongoing voters' registration process halted there, a United Nation spokesman said Thursday.
"As a result of the sad incident in Kunduz, registration sites are currently closed in Kunduz," Manoel de Almeida e Silva of UN Assistance Mission in Afghanistan, told journalists at a news briefing in Kabul.
Violence targeting election and aid workers in Afghanistan is causing concern ahead of September polls.
A series of recent attacks on aid workers and UN election workers has raised concerns about security.
Just a few days before the Chinese incident, five staff from the non-governmental organization Doctors Without Borders were killed in the northwestern Afghanistan's Badghis Province and on Sunday there was an ambush on one of the convoys with electoral staff on the Gardez-Khost road in southeastern Afghanistan.
Today's Top News
Top China News

China vows more strikes against terrorism




Japan sending chemists to analyze bombs




Pandas gift people with more births




Industries cool down growth




Volkswagen sides with 2008 Games




State bank splits up in pilot reform