China's panda population up 40%
By Cao Desheng (China Daily)
Updated: 2004-06-10 22:09
Panda protection equals panda procreation.
That's the news from State Forestry Administration officials who say increased national efforts at protecting wildlife such as the Giant Panda have seen dramatic increases in the ranks of the endangered species, including more than 500 new pandas born within the past sixteen years.
A latest inventory was conducted by the administration, and found the number of giant panda in the wild has increased from 1,100 in 1988 to more than 1,590 today.
That excludes young giant pandas under 18 months old.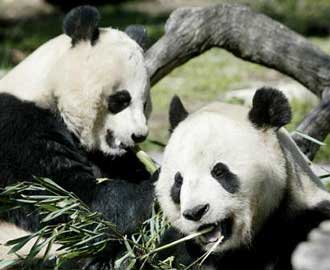 Mei Xiang(L) and Tian Tian, the Smithsonian National Zoo's pair of giant pandas, munch on bamboo April 6, 2004. [AP]
A total of 161 of the additional pandas were bred in captivity. The bears have long had a low productivity rate -- a genetic problem that has been plaguing scientists trying to save the species from extinction.
The inventory began in 1999 and was carried out in the endangered bear's major habitats, including the western provinces of Sichuan, Shaanxi and Gansu. It was the third ever conducted in China, with earlier counts carried out in the 1970s and 1980s.
To improve the accuracy of the inventory, high technologies -- including global positioning and geographic information systems along with specially designed software were used to annotate the exact spots where wild pandas or their footprints, dropping and bamboo stem fragments or other traces were found, Zhuo Rongsheng, director of the Department of Wild Fauna and Flora Conservation at the administration said.
Zhuo attributes the increase of the panda population to the improvement of their habitat and successful research in artificial insemination and conception.
"More than 90 per cent of giant pandas have been protected in 60 nature reserves for the species," Zhuo said, noting that China began implementing conservation efforts in the 1990s."In the meantime, Chinese scientists have worked out artificial fertilization technologies to improve the birth rate of giant pandas bred in captivity, and at least 90 per cent of the artificially bred baby pandas have survived," said Zhuo.
However, because of singularity of its food chain and its vulnerability to diseases, the giant panda is still in endangered condition and needs further protection, according to Zhuo.
He added illegal encroachment in nature reserves in some areas is often found, doing great damage to living environment of the rare animals.
Besides the inventory of the giant panda -- which is dubbed a "state treasure" of Chinese people, the administration also carried out a national survey on major wild fauna and flora and wetland resources from the mid-1990s.
The main wildlife habitats and wetlands are under sound conservation in China thanks to the consistent efforts of the government has made, said Zhao Xuemin, the administration's deputy director.
"By the end of last year, the forestry authority has established 1,538 nature reserves, taking up 12.3 per cent of the country's total land area," Zhao told a news conference in Beijing Thursday.
The establishment of these nature reserves brings 40 per cent of China's natural wetlands, the main habitats of 300 species of wild fauna and 130 species of wild flora under protection, Zhao said.
Statistics indicate China has established more than 250 wild fauna rescue and breeding bases and 400 breeding or genetic reserves for wild flora, thus protecting the rare and highly endangered species form extinction.
Although great achievements have been made in the conservation project, some species are found exhausted and endangered and in need of rescue, Zhao noted.
Rare wild fauna and flora resources should be regarded as ecological resources instead of economic resources and brought under protection, he stressed.
Zhao urged that more effort should be made in artificial breeding so that utilization of wild resources can be shifted to the develop artificial resources.
"Capital from various owners are encouraged to be injected into the artificial breeding projects and artificially-developed animal products will be allowed in both domestic and international markets," Zhao said.
Today's Top News
Top China News

China vows more strikes against terrorism




Japan sending chemists to analyze bombs




China's panda population up 40%




Industries cool down growth




Volkswagen sides with 2008 Games




Bush: New NATO troops in Iraq not likely