Survey: China has over 1,750 giant pandas
(chinadaily.com.cn)
Updated: 2004-06-10 17:05
China has more than 1,750 giant pandas, including over 1,590 living in wild and 161 raised in an artificial environment, the State Forestry Administration announced at a press conference Thursday morning.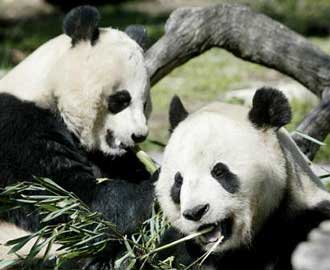 Mei Xiang(L) and Tian Tian, the Smithsonian National Zoo's pair of giant pandas, munch on bamboo April 6, 2004. [AP]

The data came from the third general survey of the endangered species. The former two investigations were carried out in the 1970s and 1980s respectively.

"The rising number of giant pandas means that they are eased from the danger of extinction in the 1980s," said Zhao Xuemin, deputy director of the State Forestry Administration.

While there is a wider distribution of giant pandas in China, their habitats are also improved, he said.

"In some areas, giant pandas are under the threat of human disturbance and fracturing of habitat," said Zhuo Rongsheng, director of the wildlife protection department under the State Forestry Administration. "The key of giant panda protection is, in fact, to protect their natural habitats."

Zhuo said their major task is to maintain and increase the number of giant pandas, prevent them from dying out. In addition, they would also restore the habitats of giant pandas and limit human disturbance to giant pandas.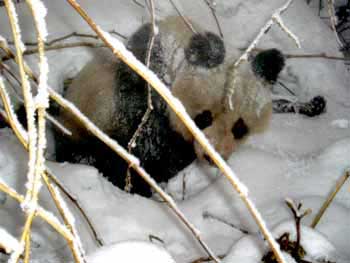 A giant panda is found stranded in the snow in the Xiling Snow Mountain, Dayi County, Southwest China's Sichuan Province January 6, 2004, and was successfully rescued. [newsphoto]

China has launched the project for the protection of giant pandas and their habitas and the wildlife and nature reserve construction project. These projects helped quicken the establishment of giant panda nature reserves, reinforce the setting-up of giant panda surveillance and monitoring stations and reduce human activites in the areas. Besides, giant panda reproduction corridors are also established in areas like Qinling Mountains, Shaanxi ProvinceŁ¬to connect and enlarge the habitats of giant pandas.

By the end of 2003, China has built 40 giant panda protection areas, covering 45 per cent of their habitats. At the same time, 61 per cent of the wild giant pandas in these areas are well protected.

Concerning the remaining 40 per cent of giant pandas outside the protection areas, the State Forestry Administration promises to build more nature reserves and to improve the protection network so as to improve the protection.

Moreover, they would further support the artificial breeding of giant pandas and to improve the conditions of the artificial breeding environment.
Today's Top News
Top China News

Eleven Chinese workers killed in Afghan attack




State bank splits up in pilot reform




Beijingers rally around Olympic relay




Survey: China has over 1,750 giant pandas




Hu signs communique in Warsaw




Volkswagen auto partner of 2008 Olympics