Eleven Chinese workers killed in Afghan attack
(Chinadaily.com.cn/Agencies)
Updated: 2004-06-10 12:30
Gunmen burst into a compound in northern Afghanistan early on Thursday, killing 11 Chinese road workers and wounding five, an embassy official in Kabul said, in one of the bloodiest attack on foreigners since the Taliban fell.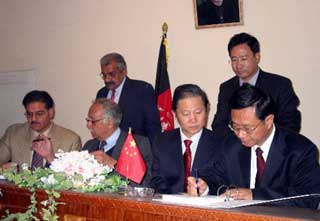 Zhang Haizhou (right), deputy general manager of China Railway Shisiju Group Corporation, signs a road reconstruction contract with Afghan Public Works Minister Abdullah Ali (front Line, 2nd L) in Kabul, Afghanistan in this October 23, 2003 file photo. [Xinhua]
Chinese President Hu Jintao, on a state visit to Poland, strongly condemned this cruel and barbaric terrorist act, and urged the Afghan government and the multi-national forces there to make a thorough investigation and bring the murderers to justice.
Hu also urged the Afghan government and the multi-national forces to take measures to ensure the safety of the Chinese people now in Afghanistan. The president also asked the Chinese embassy to convey his condolence to the injured and relatives of the dead.
Liu Jianchao, spokesman of the Chinese foreign ministry, said China strongly condemned the terrorist attack on Chinese construction workers in Afghanistan. He said Chinese leaders have ordered the Chinese Foreign Ministry, the Chinese Embassy to Afghanistan and the departments concerned to deal with problems arising from the attack and assist Afghanistan to ensure safety of other Chinese citizens, Liu said the ministry's regular press briefing Thursday.
The raid occurred 35 km (22 miles) south of the city of Kunduz, until now deemed a secure area as Islamic insurgents concentrate their attacks in Afghanistan's south and east.
It came just two days after about 100 Chinese workers had arrived at the site, the Xinhua news agency reported.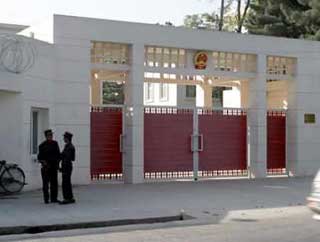 Afghan security stand guard in front of the Chinese embassy in Kabul June 10, 2004. [Reuters]

"Ten people died on the spot and several were wounded, one of whom has since died," said a Chinese embassy official in Kabul who declined to be identified. The attack took place at around 1 a.m. (2030 GMT on Wednesday).

"They were working on a road paving project for a Chinese company. The project is being financed by the World Bank."

Security guards exchanged fire with about 20 assailants, according to Xinhua.

The attack will deal a body blow to Afghanistan's efforts to rebuild a country shattered by decades of war and occupation.

President Hamid Karzai, installed in power after US forces helped topple the Taliban in late 2001, is on a visit to the United States.

Remnants of the ousted militia and their militant allies including al Qaeda have vowed to attack foreign and Afghan troops as well as aid organisations, and disrupt elections due in September.

The rebels have been most active in their old strongholds in the south and east, but an attack in the northwest last week that killed three foreigners and two Afghans from the Medecins Sans Frontieres aid group, and the Kunduz raid, have raised concern that the insurgency is spreading.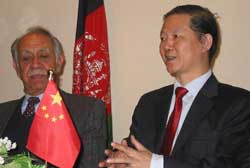 Chinese Ambassador to Afghanistan Sun Yuxi (right) talks with Afghan Public Works Minister Abdullah Ali in Kabul, Afghanistan in this October 23, 2003 file photo. [Xinhua]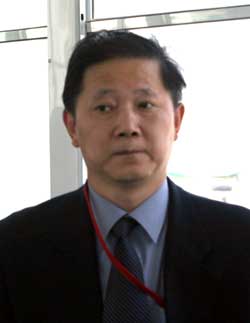 Chinese Ambassador to Afghanistan Sun Yuxi sits on a bus at Kabul airport June 10, 2004. Sun is on his way to Kunduz, where gunmen killed 11 Chinese workers. [Reuters]

AMBASSADOR TO VISIT
The reason for the attack just outside the provincial capital of Kunduz was not known. China has pledged to help Afghanistan rebuild a major irrigation project near Kabul.
The Chinese Foreign Ministry had no immediate comment. The embassy official said the ambassador to Afghanistan, Sun Yuxi, would fly to the area on Thursday.
Kunduz is 250 km (156 miles) north of Kabul and takes up to seven hours to reach by road.
The official said the wounded would be taken to a German hospital in Kunduz, where a provincial-civilian team led by German troops has been operating.
No decision has been taken on whether to pull other Chinese workers out of the area.
"The first thing is to take care of the wounded," the embassy official said.
Kunduz was the scene of one of the fiercest clashes in the US-led war on the Taliban in late 2001. Hundreds of militants were killed there and many were captured and imprisoned.
Militant attacks on Chinese overseas are rare.
A car bomb exploded at one of Pakistan's biggest construction projects in May, killing three Chinese technicians and wounding 11 people in what Pakistani President Pervez Musharraf called a barbaric act of terrorism.
In April, seven Chinese construction workers were briefly taken hostage in the volatile Iraqi town of Falluja and released 36 hours later.
As part of warming bilateral ties, China has agreed to write off debts owed by Afghanistan.

Today's Top News
Top China News

Eleven Chinese workers killed in Afghan attack




State bank splits up in pilot reform




Beijingers rally around Olympic relay




Hu signs communique in Warsaw




Volkswagen auto partner of 2008 Olympics




Half of China's rich aren't spending