DaimlerChrysler to invest 1b euros in China
(Agencies)
Updated: 2004-06-09 14:50
US-German auto group DaimlerChrysler, looking to salvage its Asian strategy after setbacks in South Korea and Japan, will pour more than 1 billion euros into China over the next few years.
The car giant will also aim to double capacity of its jeeps and sports utility vehicles this year as it looks to cash in on the world's fastest growing auto market.
"We are going to invest more than 1 billion euro in the next couple of years in passenger cars, jeeps and commercial vehicles," said Roman Fischer, chairman and chief executive officer of DaimlerChrysler China Ltd.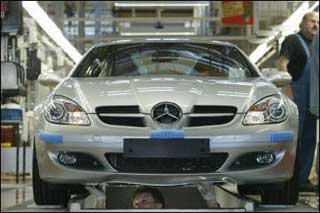 US-German auto group DaimlerChrysler is to pump more than one billion euros into China over the next few years and double capacity. [AFP]

While he gave no details of the investment plans, the company in May received the green light from the Chinese authorities to proceed with a joint venture with Beijing Automotive Industry Holding Co. (BAIC).

The two sides have indicated they hope to set up a 1-billion-euro (US$1.2-billion) joint manufacturing facility to build Mercedes E-class and C-class models.

DaimlerChrysler's drive into the Chinese market follows an aggressive acceleration of US-based General Motors plans for the communist country.

The world's number one automaker on Monday announced it was investing three billion dollars in the Chinese market in the next three years and doubling assembly capacity.

Fischer said his company expects to sell more than 40,000 of its jeeps and sport utility vehicles this year through its Beijing Jeep joint venture operations, compared to 20,000 last year.

Beijing Jeep sold just 9,000 units in 2002.

The company is also considering introducing new models.

"In relation to introducing new models, we are looking at each and every kind of jeep model produced in the US but there is no decision yet," he said.

"You cannot produce everything in China. It's not possible."

Many of the world's top automakers are in Beijing for the country's flagship motor show, AutoChina, which officially opens Thursday.

As well as DaimlerChrysler and GM, Mazda and Volvo Cars have this week flagged sales drives in a country where rising urban household incomes have created huge demand for cars.

DaimlerChrysler is looking to tap into this potential to help it get back on track after two stunning setbacks in the past few weeks in Asia, culminating in the severing of its fraught alliance with South Korean car maker Hyundai.

Coming only three weeks after DaimlerChrysler pulled the plug on any further financing for its loss-making Japanese partner Mitsubishi Motors, it left the group bloodied and bruised in its fight to remain one of the world's top car makers.