Olympic flame shines in Beijing
By Yu Yilei (China Daily)
Updated: 2004-06-08 23:49
Zeus came down from the heavens Monday, bringing China his eternal fire.
The Olympic flame touched down at the Beijing Capital International Airport at 6:23 am Beijing time Monday, aboard Zeus, a Greek-chartered jumbo jet decked out in the Olympic colours.
It is the first time the Athens Olympics flame visits the Chinese mainland.
Spiros Lambridis, the ambassador of the Athens Olympics Games organizing committee, in hallmark blue uniform bearing the signs of olive branches and a torchbearer figure, was the first to walk from the plane, holding in his right hand a traditional Greek lamp containing the fire to light the Olympic torch.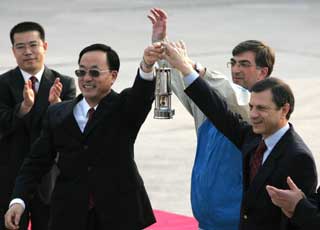 Liu Jingmin (second from left), vice mayor of Beijing and the executive vice-chairman of the Beijing Olympic organizing committee, and Greek ambassador to China Charalambos Rocannas (right) and Olympic Ambassador Spiros Lambridis (second from right) raise the the Olympic flame lantern when the flame arrived in Beijing June 8, 2004. [Xinhua]
Lambridis passed the lamp to Liu Jingmin, Executive Vice-President of Beijing Organizing Committee for the Games of the XXIX Olympiad.
"It is a great milestone in the city's preparations for the 2008 Olympics," said Liu. "The arrival of the flame is symbolic of the mix of two civilizations.''
The torch relay in Beijing starts today at 9:30 am from the east gate of the Great Hall of the People alongside the Tian'anmen Square after a short ceremony.
"It's an honour for us to bring the Olympic flame and the Olympic Spirit to Beijing, the city with wonderful history and deep rooted culture," said Kristin Fabos, spokesperson for the Athens organizing committee.
"Sharing the Olympic flame with Beijing is not only a prelude to the Athens Olympics but also an opening event for Beijing 2008," Fabos said.
After the welcome ceremony, the flame was taken immediately to the Mutianyu section of the Great Wall for an exhibition and documentary shooting.
As the fifth stop on the international route, the Beijing leg of the Olympic torch relay will be 55 kilometres long and will last about eight hours. It will pass in front of a host of icons of modern and historic Beijing such as the Tian'anmen Square, the Forbidden City, the Wangfujing business area, China World Trade Centre and two prestigious Beijing universities -- Tsinghua and Peking University.
The relay ends at the Summer Palace, where the last torchbearer, NBA player Yao Ming, who was selected by the Chinese Olympic Committee, is expected to ignite a ceremonial cauldron, followed by a celebration gala show that will conclude the two-day event.
Today's Top News
Top China News

Agree to have one child? Get a nice cash reward




Nuke talks in `substantial period'




Ex-factory prices of gasoline, diesel raised




President Hu visits Poland




HK banks urged to check for terrorist links




UN endorses Iraq sovereignty transfer