President Hu visits Poland
By Jiang Zhuqing (China Daily)
Updated: 2004-06-08 23:49
Polish President Aleksander Kwasniewski held talks Monday with his Chinese counterpart Hu Jintao, the first top Chinese leader to visit Poland in 55 years.
The talks covered boosting cooperation in fields of economy, trade, culture and science. The two leaders also exchanged views on regional and global issues.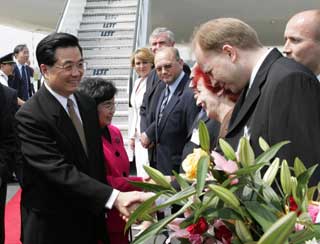 Chinese President Hu Jintao arrives in Warsaw to begin his state visit to Poland June 8, 2004. [Xinhua]

During Hu's stay in Poland, he will also meet other Polish leaders from the government and the parliament.

Hu is scheduled to visit Krakow, Poland's capital of culture on Wednesday.

Hu's visit marks the first state visit to Poland by a Chinese president since the two countries established diplomatic relations 55 years ago.

Trade between China and Poland has seen tremendous growth in the last year.

According to the latest statistics, bilateral trade volume reached a record US$1.98 billion last year, a 43.1 per cent hike from the previous year.

Poland has become China's second largest trading partner in central and eastern Europe.

"We will encourage Chinese enterprises to increase investment and set up factories in central and east European nations," said an official from the Ministry of Commerce just days before Hu's visit.

In a written statement issued at the airport when he arrived, Hu said the two nations have strengthened exchanges and harvested fruitful achievements in recent years.

Based on mutual respect, equality and non-intervention in each other's internal affairs, the two nations are enhancing co-operation in all fields, Hu said.

After their meeting, the two national leaders are scheduled to appear at the signing ceremony of a joint communique and contracts and framework agreements on the co-operation of economy and trade, education, culture and joint operation of a copper mine in Poland.

In 1997, Polish President Aleksander Kwasniewski paid a state visit to China, the first official visit to China by a Polish head of state in 38 years.

Poland marks the first leg of Hu's four-nation visit, which also includes Hungary, Romania and Uzebekistan.

The entourage included his wife Liu Yongqing, State Councillor Tang Jiaxuan, Foreign Minister Li Zhaoxing, Minister of Commerce Bo Xilai, Director of the Policy Research Office of the Central Committee of the Communist Party of China (CPC) Wang Huning, and Deputy Director of the General Office of the CPC Central Committee Ling Jihua. During this visit, Hu will also attend the Tashkent summit of the Shanghai Co-operation Organization (SCO) in Uzebekistan.

Before leaving Beijing, Hu met with Zhang Deguang, secretary-general of the SCO and other officials from the SCO secretariat. He gave a positive appraisal of what the SCO secretariat has done since it was established this January, and said China will continue to support the work.
Today's Top News
Top China News

Agree to have one child? Get a nice cash reward




Nuke talks in `substantial period'




Ex-factory prices of gasoline, diesel raised




President Hu visits Poland




CAAC approves two private airlines




UN endorses Iraq sovereignty transfer