China prepares pageant for 'artificial beauties'
(Xinhua)
Updated: 2004-06-08 10:59
Just days after a local woman was disqualified from a pageant because she had had plastic surgery, China plans a contest where participants will be banned if they do not have it, Xinhua news agency reported.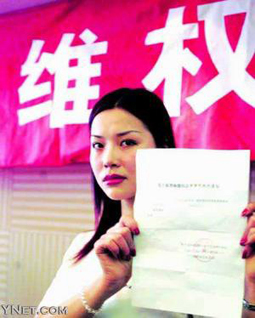 Yang says she would consider a lawsuit if the competition's Beijing organizing committee refused to recall their decision.

"Artificial beauties" from around the world will gather "soon" to show off the skills of their plastic surgeons, Xinhua reported, citing the head of the organizing committee, surnamed Lu.

"Man-made beauties should have a stage of their own," Lu was quoted as saying. "It's fair to have a pageant apart from that for natural beauties."

There is one major exception, though, as transsexuals will not be permitted access to the show.

News of the event -- probably a first ever -- comes in the wake of major controversy erupting over 18-year-old Yang Yuan, who was kicked out of the Miss Intercontinental contest for having gone under the knife a little too much.

The organizers argued that a bit of facial adjustments were in order, but not on a massive scale, like Yang, who had visited her plastic surgeon 11 times to look like a completely different person.

The plastic beauty disagreed, and is suing the organizers in the hope that they will pay her 110,000-yuan (US$13,200) medical bill.
Today's Top News
Top Life News

Summer grain output to rise after years




7 million commit to honesty in college exam




Ample room for fiscal policy manoeuvring




N. Korea to increase nuke deterrent




Al Qaeda warns of attacks on western airlines




Minister urges assent to market status